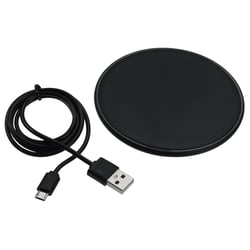 Experience the freedom of a 360o degree charging surface. Simply place your phone on the charging pad and walk away as the slim 4" desktop fusion reactor brings you to full charge within hours!1
---
Never miss an important call just because you're still using your charging cable from 3 phones ago.

Compatible with Qi®-enabled devices.


Gravity-assisted non-slip backing.
1. I'll be honest with you, I'm not really sure how this thing works. But I'm pretty sure it's either fusion or dark magic. But, reading that back out loud, both sound pretty ridiculous. Let's just say the documentation didn't not say either way.