What is Sales Force Automation?
Organizations use sales force automation (SFA) to automate sales activities, processes and administrative responsibilities for their sales professionals, and SFA applications are a core technology of leading sales teams.


The latest Forrester Wave Report names Microsoft Dynamics 365 for Sales the strongest current SFA offering.

AI and Machine Learning Improve Your CRM and Analytics.
Sales force automation solutions have historically required substantial investments, but have not always delivered on the promise of increased productivity or sales. For example, the need to manually input more and more data has offset most efficiencies gained through better UIs or UXs. Unfortunately, very few organizations successfully convert their mountains of data into actionable insights. (See our ebook "Unlocking your Data's Hidden Treasures" for more on this topic).
AI and machine learning are now beginning to change this paradigm, and Microsoft Dynamics 365 for Sales is leading the way by providing innovative solutions that generate meaningful results.
Analytics and insights will only improve with Microsoft's acquisition of LinkedIn and integration of Sales Navigator.
After years of promise, the mountains of data you collect can finally be transformed into easily understandable, actionable insights.
Dynamics 365 for Sales Provides More Value Than the Competition.
Think that's marketing hype? Then don't take my word for it. In the most recent Forrester Wave Report, Microsoft has overtaken the venerable solutions from both Oracle and Salesforce. Additionally, the latest Gartner Magic Quadrant for Sales Force Automation recognizes Dynamics 365 for Sales as an industry leader.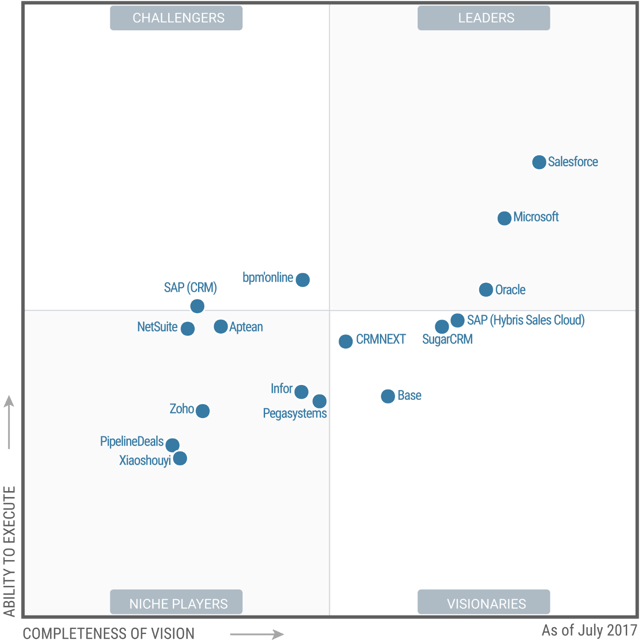 According to Forrester,
"The 2016 transition to Dynamics 365 brought a heightened focus on seller productivity,
with deep integrations into Office 365 and Outlook. Microsoft also delivers
very strong analytics capabilities, including its machine learning and AI offerings, as well as Power BI.
Microsoft shows considerable maturity in both its execution and vision for how advanced analytics will transform selling."
--The Forrester Wave™: Sales Force Automation Solutions, Q2 2017
Microsoft Dynamics 365 for Sales provides value over the competition because of its deep integration with Exchange, Office 365 and SharePoint, as well as an expanding collection of Azure products that include Azure Machine Learning, Azure Data Factory, and Azure Data Lake.
With Dynamics 365 for Sales, Microsoft has defined an effective product vision which illustrates how predictive analytics can lead to better sales.
Select a Partner that Understands your Business.
Selecting a partner that understands your business is key to any successful implementation. "One-size-fits-all" solutions rarely address the unique needs of any organization. Gartner clients report the benefits of being able to customize Dynamics 365 for Sales for their unique needs.
As a Microsoft Gold Partner, KiZAN is uniquely positioned to deliver complete lifecycle solutions that fully meet your requirements and expectations.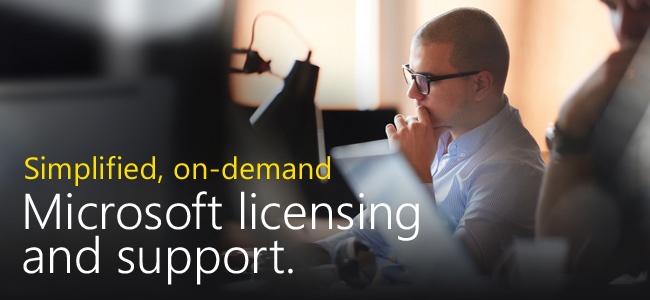 Contrast Microsoft's approach with both Oracle and Salesforce. According to Gartner, customers gave Oracle comparatively low scores for customer support. They pointed to issues with getting consistently high-quality assistance from its support resources.
Gartner also reports prospective and existing Salesforce clients frequently detail their unhappiness with Salesforce's aggressive sales practices and licensing inflexibility. Furthermore, respondents on Gartner's Peer Insights portal for this Magic Quadrant gave Salesforce very low satisfaction scores for its contract negotiation processes.
Most tellingly,
"In reference customer surveys and inquiries with Gartner, Salesforce clients regularly identify issues
with deriving value from their Salesforce implementations. Some clients object to the price paid,
relative to the business results delivered by the system, and some object to the amount of customization
needed to automate complex sales processes."
--Magic Quadrant for Sales Force Automation July 2017
Who is the winner for Sales for Automation Innovation?
Forrester states that Oracle's solution "lacks depth," and that Oracle's customers report concerns that releases often require better testing and break existing functionality. Forrester also expresses concern that Salesforce will be hard-pressed to ensure seamless migrations from its classic experience to its Lightning interface and keep pace with innovation at the same time.
However, customers rate Microsoft's velocity and culture of innovation very highly.
"Microsoft has a deep understanding of the market, supported by a consistent marketing strategy
and market responsiveness. It has improved its overall sales approach by addressing not only CIOs
and other IT leaders, but also sales executives."
--Magic Quadrant for Sales Force Automation July 2017
Dynamics 365 for Sales is the clear winner for companies looking to leverage existing Microsoft investments such as Office 365 as well as those looking to disrupt their peers with AI or machine learning.
---
Want to learn more about Dynamics 365 for Sales?
We'll answer any questions you have in a free discovery session.