What is PaaS?
Platform as a service (PaaS) is a complete development and deployment ecosystem for the cloud.
PaaS hides the complexity and need to manage the underlying infrastructure. With PaaS, businesses can avoid the expense and complexity of buying and managing the disparate software licenses and the underlying application infrastructure and simply manage the applications and services they develop.
For example, PaaS services on Azure include:
Web servers
File storage
Message queues and service buses
Machine learning services
Big data services
---
Why PaaS?
Here are 5 reasons your business should consider Azure as your PaaS provider:
Recognized as Industry Leader
Azure is ranked by Gartner as an industry leader for both IaaS (Infrastructure as a Service) and PaaS (Platform as a Service). This powerful combination of services allows businesses to build, deploy, and manage applications to unlock unmatched productivity.





Development Platform Independence
Azure does not limit your development language of choice. It is an open and flexible cloud that supports multiple programming languages, frameworks, tools, databases, and devices to meet the unique needs your business. Azure continuously works with industry-leading software vendors to certify their applications on Azure. Azure maintains unique relationships with IBM, SAP, Red Hat and Oracle so that businesses experience first class support regardless of their operating system of choice.



Security and Compliance
Security and privacy are built into the Azure platform. This begins with the Security Development Lifecycle (SDL) that addresses security at every software development phase: from initial planning to launch. Additionally, Azure's security is continually monitored and updated. In fact, Azure Security Center makes Azure the only public cloud platform to offer continuous security-health monitoring.



Furthermore, Microsoft provides leadership in the security space via the Operational Security Assurance (OSA) framework. This framework incorporates knowledge gained through a variety of capabilities that are unique to Microsoft, including:

The Microsoft Security Development Lifecycle(SDL)
The Microsoft Security Response Center program
Deep analysis of the cybersecurity threat landscape

With Azure, Microsoft has leveraged its decades-long experience creating enterprise software and running some of the world's largest online services to create a robust set of security technologies and practices. This helps ensure that Azure infrastructure:

Is resilient to attack
Safeguards user access
Keeps customer data secure through encrypted communications
Manages threats with mitigation practices, including regular penetration testing




Location, Location, Location
Azure is generally available in 32 regions around the world and has announced plans for 6 additional regions. Geographic expansion is a priority for Azure because it enables customers to achieve higher performance and it supports their requirements regarding data location. Microsoft has proven that geographic expansion is a priority for Azure, and that's good for business!




Integration with existing investments
Azure integrates with Microsoft's industry leading SaaS services including Office 365, Dynamics 365, and Enterprise Mobility + Security. Azure shares many foundational capabilities with these services, such as managing identity with Azure Active Directory and managing mobile devices with Intune. And with Azure, businesses can easily build web applications that integrate with SharePoint and Office365, enabling them to leverage and maximize their existing investments.


---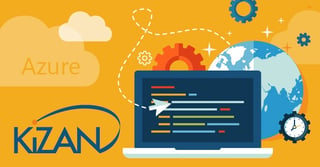 Learn more about developing for the cloud. Download our free infographic
"Developing Real-World Cloud Apps"
&
Get started developing!
Register for a FREE Mobile Development Discovery Session!