In the crowded space of Systems Monitoring Solutions, Microsoft has released a much-needed series of improvements to its Operations Manager (a.k.a SCOM) platform for 2016. The continued adoption of Hybrid Cloud scenarios which require 24/7 monitoring for both on-premise and cloud workloads using one tool is in high demand. Operations Manager 2016 has delivered a platform that can monitor you on-premise and cloud workloads from one pane of glass.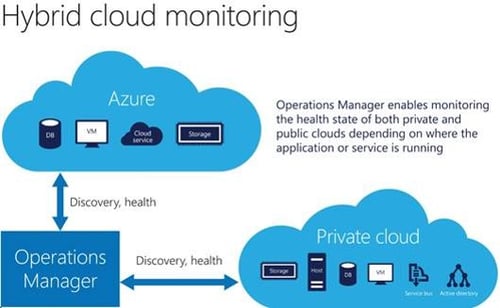 Here is a highlight of the new features that have been released in Operations Manager 2016:
If you are familiar with the previous upgrade paths for Operations manager, then 2016 bring a welcome addition: In-Place Upgrade support from Operations Manager 2012 R2. This should help accelerate adoption rather than having to build a parallel environment to migrate to from the previous version.


Performance improvements have been made to State views and Diagram views in the System Center 2016 Operations Manager console to increase responsiveness. You will now see optimization improvements in State and Diagram views loading in the console. These improvements will be more visible in an environment where the load on the Operations Manager database is high. Early estimates are nearing a 50% improvement in larger SCOM environments.


The Operations Manager team finally transitioned from the old Silverlight (IE Only) web console to an HTML-based web console, with the exception of the dashboards views. Dashboard views today are still Silverlight-based, but we will continue our investments to provide you HTML5-based dashboards soon.

With this change, you can now access System Center 2016 Operations Manager web console from a variety of browsers, such as Google Chrome, Microsoft Edge, and Mozilla Firefox. This change also offers significant performance improvements in loading data, views, monitoring tree, and tasks.


The new management pack(MP) Updates and Recommendations feature in System Center 2016 Operations Manager provides an indispensable solution to address the challenges of MP availability, discovery, updating, and installation status.

At the same time, it provides a single location to perform these interrelated activities for ease of use. Microsoft is also in the process of releasing a multitude of new Management Packs that will extend SCOM monitoring capabilities for both on-premise and cloud scenarios.


Continued investment in tighter integration between Operations Manager and OMS has continued into the 2016 release. When an Operations Manager deployment and OMS workspace are connected they give you better visibility and control over your data and applications across on-premises and public, hosted, and hybrid cloud environments.

OMS has released or is releasing a lot of Solutions packs to support the on-premises Operations Manager 2016 deployments. To call out one would be the SCOM Assessment Solution.


The inclusion of the Data Driven Alert Management (a.k.a Alert Tuning) feature allows you to get a single view to gather quick insights on data pertaining to alerts that are being generated at different levels: management packs, individual monitors, and rules, or sources.

It also empowers the user by providing the ability to take requisite actions from the same pane for Tuning Thresholds, Disabling Monitors/rules, and overriding parameters of a monitor/rule.


An exciting feature in the Operations Manager 2016 release is the addition of true extensible network (SNMP) device monitoring. This has been achieved by providing a Network Monitoring Management Pack generator tool.

This tool allows you to generate a custom management pack that is extensible by leveraging a built-in MIB browser. So now if you can obtain the OISs from a component you can monitor it within Operations Manager.


Lastly, is the much-needed feature of a built-in Schedule Maintenance Mode in the console. An Operations Manager monitored machine can be put into maintenance from client side via agent, and operators will be able to access "Maintenance Schedules" from the Monitoring pane of Operations Console.


The updates and new features that Microsoft has built into the latest System Center Operations Manager solution has brought it forward leaps and bounds regarding performance, capability, and usability. With these changes, we are already seeing many organizations upgrading to the 2016 edition, or in the case where SCOM wasn't already in the environment, Proof of Concepts and Pilot deployments are rapidly being spun up. We've even completed the upgrade internally at KiZAN to benefit from these very same improvements.

If you'd like to learn more or are looking for assistance with the upgrade or installation, we'd love to lend our experience to your efforts. Contact us today!