Technology and businesses are increasingly moving to the cloud. However, certain conditions (such as security concerns, regulatory issues, or abnormal workflows of data) prevent complete public cloud adoption for some businesses. For these businesses, the solution can be the hybrid cloud model, which provides the rapid provisioning of resources on a billing/usage basis (public cloud), while maintaining the speed, reliability, and agility of an on-premises solution (private cloud).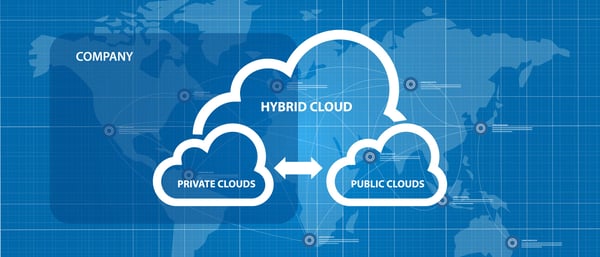 What Is Hybrid Cloud?
According to TechTarget,
"Hybrid cloud is a cloud computing environment that uses a mix of on-premises (private cloud) and third-party (public cloud) services with orchestration between the two platforms. By allowing workloads to move between private and public clouds as computing needs and costs change, hybrid cloud gives businesses greater flexibility and more data deployment options."
The private (on-premises) and public cloud environments (AWS, Microsoft Azure, Google Cloud Platform or GCP) can work independently but are connected via an encrypted dedicated link.
Why Hybrid Cloud Matters?
Under ideal conditions, the hybrid cloud model offers the best of both private and public cloud solutions. Public cloud services provide the instant provisioning of on-demand compute, storage, and networking resources without the upfront costs and the time required to build the on-prem solution. The private cloud services offer peace of mind, access to applications, and quick delivery of information without relying on internet connectivity.
When businesses have variable or seasonal workloads, initial cost-savings can be a critical consideration in adopting a hybrid cloud approach. Establishing private cloud services for normal workloads and public cloud services for burst workloads can be a budget-friendly strategy.
Is Hybrid Cloud Right for Everybody?
A variety of businesses are adapting to a hybrid cloud model. One of the prominent adopters of hybrid cloud is the financial services sector because vicinity to network edges can increase speed and lower latency.
The hardware required to process order and high-frequency trading (HFT) algorithms (which require ultrafast responsiveness), can be kept on-premises while the public cloud environment can be used for analytics and projection purposes.
In highly regulated industries, such as healthcare, where additional considerations are typically given to safeguarding against unauthorized access, data loss, hardware failure, or natural disaster, the hybrid cloud model can be a very effective choice.
Additionally, a hybrid cloud model can substantially reduce an organization's necessary physical footprint because critical services can be offloaded to the public cloud. This can be exceptionally beneficial in congested urban environments.
Hybrid Cloud Benefits
A hybrid cloud approach offers the advantages of public cloud services along with the control and privacy benefits of a private cloud. By using a hybrid cloud model, enterprise organizations can maximize benefits and minimize risk.
Improved Flexibility
A hybrid cloud approach allows businesses to manage their apps in a more efficient way. Organizations can host their data on dedicated servers on a private cloud and maintain complete control of their data, but use the public cloud to scale their services for dev-testing or for traffic spikes.
Cost Reduction
Massive upfront infrastructure investments no longer have to be the norm, and the total cost of ownership (TCO) can be lower as a result. Pay-as-you-go billing can help control monthly costs by only requiring payment for services when they are consumed.
Security
Many organizations maintain sensitive data which can't be kept on a public cloud platform. With a hybrid cloud approach, organizations decide themselves which data will move to the public cloud and which will stay on-premises.
Promotes innovations
Organizations can develop and test new apps on public clouds and gain an understanding of the capacity requirements. With the hybrid approach, an organization doesn't need to re-arrange existing infrastructure to test a newly developed app or service.
Conclusion
A hybrid cloud approach can offer a number of benefits when full cloud adoption isn't feasible.
KiZAN an is a Microsoft National Solutions Provider and can offer a full array of hybrid cloud solutions to solve the most challenging issues you are facing today. Our Azure Cloud Services experts can help you analyze if a hybrid cloud solution is right for you, accurately gauge your requirements and help you avoid overpaying for unused capacity.
Is a hybrid cloud solution right for you?
Find out with a free discovery session.