System Center Operations Manager
The recent SolarWinds breach is in all the IT and news headlines. This has caused IT decision-makers to rethink/re-evaluate their current Systems Monitoring solutions if they are a SolarWinds customer. This is where a tried-and-true platform from Microsoft may be able to assist in the decision-making process.
Many Enterprise customers already have the licensing needed (System Center Datacenter/Standard) to support Microsoft's Enterprise-grade Systems Monitoring Solution – System Center Operations Manager.
Operations Manager (a.k.a. SCOM) is an all-around monitoring solution for your infrastructures that can be hosted on-premises or as Cloud IaaS Virtual Machines. It is a best of breed monitoring solution for Microsoft first-party technology workloads such as Operating Systems (Windows and Linux), Active Directory, SQL, Exchange, and SharePoint. It can also perform monitoring of network devices or third-party solutions such as OEM Hardware, Citrix, VMWare, or Oracle through third-party Management Packs.
Operations Manager can be sized to handle workloads from the smallest to largest enterprises.
Operations Manager will tell you which monitored objects are not healthy, send alerts when problems are identified, and provide information to help you identify the cause of a problem and possible solutions.
Operations Manager is part of the System Center Suite and licensing information can be found here: Microsoft System Center | Microsoft Licensing Resources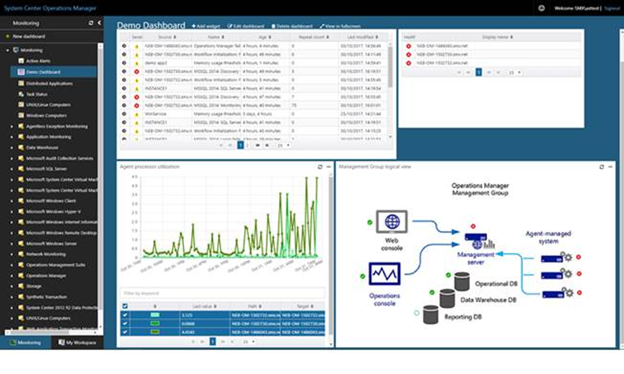 KiZAN has a deep breadth of experience with design, implementation, operations, and tuning of Operations Manager environments. We are still supporting many of our customers who have had Operations Manager monitoring their environments for the last five to seven years. We are here to help with your System Monitoring needs during this time of uncertainty caused by other monitoring solutions in the marketplace.
KiZAN is a Microsoft National Solutions Provider with numerous gold and silver Microsoft competencies, including gold security and gold enterprise mobility management. Our primary offices are located in Louisville, KY, and Cincinnati, OH, with additional sales offices located in Tennessee, Indiana, Michigan, Pennsylvania, Florida, North Carolina, South Carolina, and Georgia.