The move to the cloud has necessitated a thorough reexamination of how customers and vendors plan, deliver and operate Skype for Business. Microsoft and KiZAN have developed unique offerings that provide guidance and assist with successfully delivering Skype for Business online, on-premise or taking a hybrid approach.

KiZAN's offerings complement the guidelines provided by Microsoft's Skype Operations Framework (SOF).
The Skype Operations Framework is:
A comprehensive guide and toolset for implementing and managing a reliable, cost-effective communications service based on Skype for Business. It covers the entire customer lifecycle, including planning, delivery, adoption, operations and migrations. It is a multi-faceted approach to the successful deployment of and migration to Skype for Business Online, incorporating four key elements that have customer success firmly at the center.
Why is it needed?
In 2015, App Developer Magazine reported that the average cost of a critical application failure for Fortune 1000 businesses ranges from $500K to $1,000,000 per hour. No system is more critical to your organization than your communications infrastructure. Therefore, it is imperative this system operates as intended without interruption.
Who can use the Skype Operations Framework?
Many current consumers of Skype for Business seek to leverage the skills and experiences which were gained from designing and deploying Lync and Skype for Business on premises. Many new clients of Skype for Business Online are simply looking for guidance on where to start!
The SOF is critical for both new and existing consumers of Skype for Business, as it provides focus to understand what the move to a cloud service means concerning Planning, Delivering and Operating Skype for Business.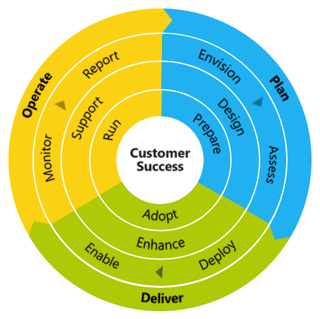 The SOF provides value when compared to other unified communications deployments, as the SOF offers a standardized approach to:
Plan
Deliver
Operate Skype for Business.
Each zone of the SOF is designed to unleash the power of Skype for Business for each deployment.
Plan
In the planning phase, the SOF provides instruction for gathering information and assessing, designing and preparing for a Skype for Business Online implementation. Expectations are defined, and readiness is evaluated.
Deliver
In the delivery phase, the Skype Operations Framework seeks to drive adoption inside the organization. Areas for improvement are identified, and new benefits and capabilities are rapidly released for quick victories.
Operate
Once Skype for Business has been deployed, the SOF provides guidance for successful monitoring, reporting, run and support services.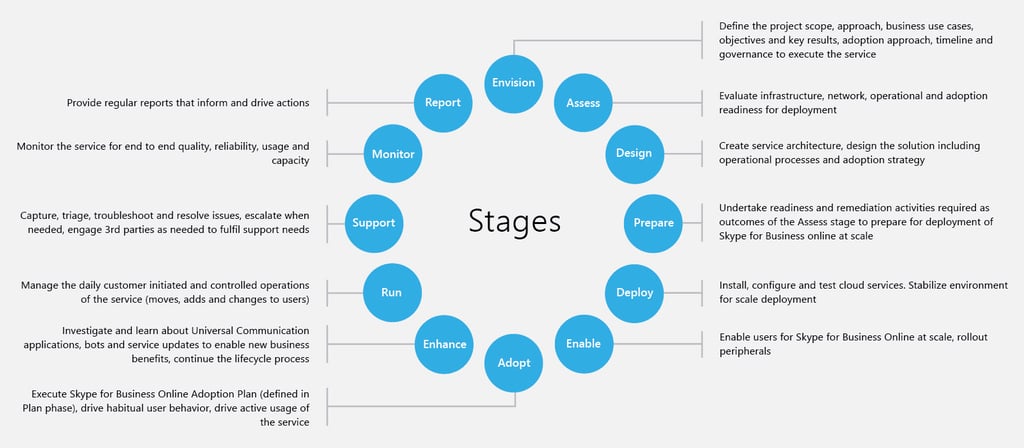 Customer success is the focus of the Skype Operations Framework, as it enables customers to successfully establish and maintain a reliable and cost-effective Unified Communications service in the cloud.
---