One of the major benefits of Microsoft Dynamics CRM is the ability to track interactions with contacts, whether they're customers, prospects or leads. For many people these days, those interactions start right in their Outlook Inbox, much of them lined with subfolders galore to help organized the huge volumes of email coming in each day. With the Dynamics CRM App for Outlook, emails are easily organized and tracked back to CRM records, right from the comfort of your local Inbox.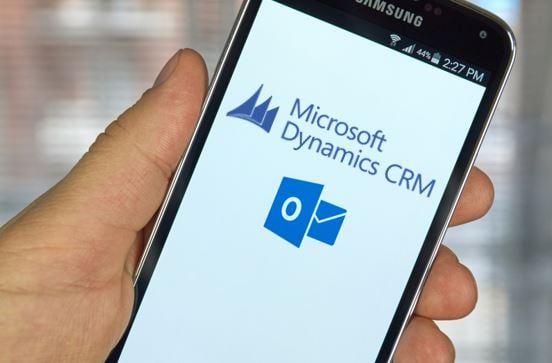 Outlook email can be tracked to contact records, opportunity records, case records or just about any record type in CRM. The entire message is copied, as well as any attachments (if configured). The app even works with Outlook Web Access (OWA), so you can even use this when you're out of the office in a web browser or smartphone using OWA. Your CRM administrator will have to do some setup on their end to push the installed to your Outlook client, and once that's done here's what the user experience is like:Once the app is installed, a new Dynamics CRM App tab will appear in each Inbox email. When you click on the tab, the app will automatically search for the contact in CRM. If the contact is located, the app will automatically link the email back to the CRM contact record. If the contact is not located in CRM, a window opens to the allow creation of a new contact, as shown below: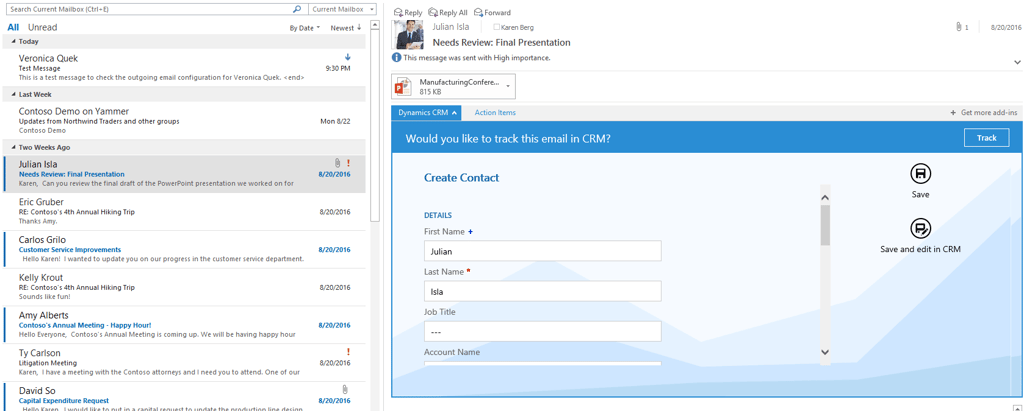 After entering the new contact details, select the Save button on the right side of the window and the contact will be saved in CRM, along with the email as a tracked activity.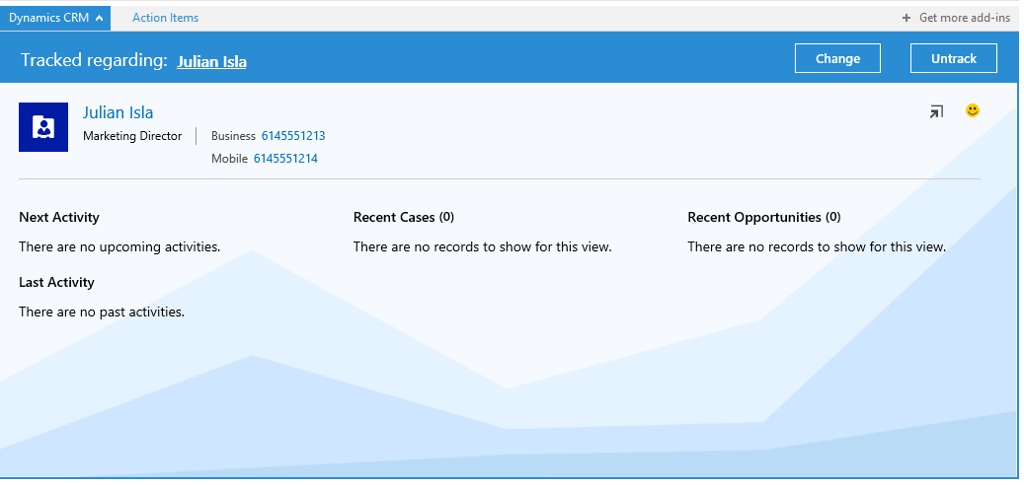 Just like that, Activity tracking made easy! And this is just one example of how you can use the Dynamics CRM App for Outlook.

Here are some additional ways you can increase productivity with the Dynamics CRM App for Outlook:
Track incoming or outgoing email wherever you are, as long as you have access to a browser.
Track email or view CRM data from a desktop computer or phone.
Link an incoming or outgoing email record to an existing record in CRM. For example, you might want to link an email message to a specific account or opportunity.
Convert an email message into a new CRM record. (Shown above)
Find out whether an email message is already tracked, and change the regarding record (the CRM record the message is linked to).
Create CRM contact records for people on the From list that aren't already included in the CRM database. You can also create new CRM records for any entity (record type), as long as the entity has been enabled for mobile and for multi-entity search.
Preview information about contacts and leads stored in CRM. For example, you can find a phone number or company name for a contact or lead, or preview the last and next activities for a contact or lead.
Open CRM records directly to find or enter more detailed information.
Access from mobile devices using OWA on a supported Web browser


To make this magic work you will need to have the following installed:

CRM 2016 Online
CRM Online connected to Exchange Online
Synchronization of incoming email through CRM server-side synchronization (Outlook sync not supported).
CRM Security privilege set for each user that will be using the app
Microsoft Outlook 2013 or higher, Outlook for Mac (OS X Mavericks, Yosemite, or El Capitan) or Outlook Web Access
Supported mobile devices using OWA on web browsers:
Apple iPhone devices running iOS version 7, 8, or 9
Android phones running Android 4.4 (KitKat) or 5.0 (Lollipop)
Windows Phone devices running Windows 8.1
Microsoft Dynamics CRM makes it so easy to track your email correspondence, you'll all be able to quickly and effortlessly find critical email conversations, attachments or any communications!
---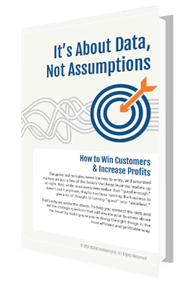 Are you listening to what your data is trying to tell you?
learn more in our free ebook
It's About Data, Not Assumptions
[How to win customers & increase profits]