In today's post, we're going to look at some of the best preparatory practices for migrating to SharePoint 2016 to help ensure your move to the latest version of the platform is a success.
Firstly, why should I migrate?
In addition to bringing your organization all the latest productivity features that Microsoft have built into the platform, SharePoint Server 2016 is also the first truly 'hybrid SharePoint.' By making it easy to connect your on-premises environment to the cloud, you can take advantage of both SharePoint on-premises and SharePoint Online.
Hybrid sites let you extend your on-premises environment to the cloud, with SharePoint Server and SharePoint Online sites consolidated in a single list. By letting you move your workloads to the cloud at your own pace, hybrid functionality makes SharePoint 2016 a great stepping stone to the cloud no matter the size of your company. It's also great for companies concerned with compliance and security issues.
Feature packs are another new addition in SharePoint 2016. These are mini upgrade packs released iteratively which give users the kind of rolling-updates that has made SharePoint Online so popular.
Don't get ahead of yourself
SharePoint 2016 should get you excited for a SharePoint migration, but you shouldn't rush into it without first planning ahead. So, let's look at some areas of 'best preparatory practice' to consider before migrating to the latest version of SharePoint.
1. Ask the difficult questions
While a content migration shouldn't scare you, moving to a brand-new environment should be done with a level of caution. A well-defined plan is the first step toward that. This starts with asking the most pressing (and sometimes most difficult) questions. Things like:
How stable is SharePoint 2016?
What are the backup & restore options?
What are the architectural changes I need to be aware of?
What does the SharePoint 2016 MinRole do?
How are software patches and bug fixes applied?
The realities of a migration shouldn't scare you from jumping in, but it's also not a task to take lightly! You need to put careful consideration into each of the answers to these questions.
2. Choose your migration strategy
There are multiple ways to migrate your content to SharePoint 2016:


This is your most straightforward option, and equally the most time-consuming. A manual migration means cutting and pasting all your content, which will quickly become monotonous. This makes it more prone to human error, but if you don't have too much content (and have an unwavering patience) it may be the best option for you.
Automated migration removes the manual chore, as it is instead performed through a tool like Microsoft PowerShell. This will require coding and scripting, however, and can, therefore, be quite technically challenging. Automated migration is also determined on a case-by-case basis, dependent on the content you want to migrate.
Partially-automated migration lets you automate only those areas that are fit for automated migration, leaving the rest to you. This is a huge time-saver while remaining a secure method of migration.
Finding the right time to migrate your content is a crucial step before you jump into the process. You can use tools like Sharegate to save you a lot of hassle, time and money.
3. Build a migration plan
Once you've figured out how your company is going to tackle a content migration, we can start to get into the details. A roadmap can let you do this—your means for planning each phase of your migration. That should include what content you're going to migrate (what stays and what goes) and the criteria for a successful migration (completion timeframes, what to expect after completion, branding, etc.).
We wrote a how-to guide on building a migration roadmap for SharePoint 2013—which is a good place to start.
4. Audit your content
It's unlikely that you'll want to migrate every bit of content in your current environment. A migration is a great opportunity to get rid of a lot of added digital weight your SharePoint or file share may have picked up over the years, making it easier for users to find content in the new environment.
A SharePoint content audit is designed to leave any outdated or unimportant content behind. Be stringent with what you want to keep. Sometimes the best way to ease the burden of a SharePoint migration is simply to migrate less stuff!
Don't make migration mistakes

With the first SharePoint 2016 feature pack released in November and more on the way, plus Microsoft's continued focus on the cloud, some people believe SharePoint 2016 will be the last on-premises SharePoint ever—meaning now is a better time than ever to migrate. Of course, if you're willing to go all in, you can migrate to your file shares or SharePoint on-premises environment to SharePoint Online in Office 365. It's what 250,000 organizations have already done!
Whether it's SharePoint Server 2016 or SharePoint Online, identifying any migration concerns before you get to the process will mean that in the long run, the migration will take far less time and money—not to mention blood, sweat, and tears.
---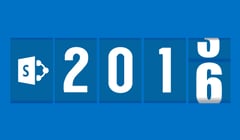 Want to learn more about Migrating to SharePoint 2016?
Check out our blog post:

"Don't Upgrade to SharePoint 2016 -
Not Until You Read This First"