5 Reasons Why You Should Use Power BI
If you are reading this, then it's a safe bet you are wondering about using Microsoft Power BI, and I'd like the chance to convince you to give it a shot.
As a Data Analyst, I find Microsoft Power BI to be a fantastic tool that can handle most of the analytics pipeline. It goes from ingesting and modeling data to presenting it as dashboards and sharing the dashboards with the people who care about them.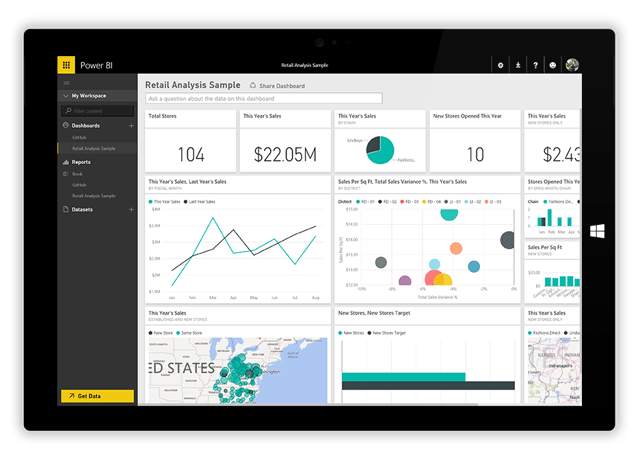 1. IT'S EASY TO USE

One of my favorite things about Microsoft Power BI is that it is so simple to turn data into meaningful visualizations quickly. Microsoft Power BI makes this possible by the drag and drop system of creating visuals, pick the visual, choose the data you want in it and boom you have an interactive way of looking at your data. You can have a report or dashboard going in minutes after you import your data.
2. IT'S EASY TO SHARE

Once you have a report or dashboard that you are happy with it is super simple to share with people both in and out of your organization.
3. IT'S EASY TO UNDERSTAND

You can use natural language to interact with your data when you publish it to the Microsoft Power BI service (which might I add is free).
4. THERE'S A REASON IT'S CALLED POWER BI

It's an incredibly powerful tool for both modeling and visualizing data. It has the same base as Power Query so if you have experience with M or DAX you can start making calculated columns, measures, and even shaping your data before you import it without having to learn an entirely new language.
5. IT'S EVERYWHERE

Once you have a dashboard created you can access it from just about anything. The web app is excellent for both displaying and editing reports from the desktop. The iOS and Android apps allow you to use your reports on the go. For those who are after something with enough features to write a book on then there is the Microsoft Power BI Desktop, where you can model, transform, and visualize your data to your heart's content.
So basically Microsoft Power BI is easy to start using, and when you decide to go "whole hog," you can do some pretty amazing things. In my opinion, this is one of the coolest things that Microsoft has ever released and has the potential to make almost any business more efficient.
If this has piqued your interest, then you should check out the official Microsoft Power BI site for addionial information. There is a lot to learn if you are just getting started but it is entirely worth it.
KiZAN is a Microsoft National Solutions Provider with numerous gold and silver Microsoft competencies, including gold data analytics. Our primary offices are located in Louisville, KY, and Cincinnati, OH, with additional sales offices located in Tennessee, Indiana, Michigan, Pennsylvania, Florida, North Carolina, South Carolina, and Georgia.