Microsoft's new Edge and Enterprise Mode
The new Microsoft Edge is a browser built for business. This Chromium-based browser offers many advantages over its predecessors and other browsers in the market today. So, is it the right choice for your organization?
Edge works seamlessly with Microsoft 365 management, security, and productivity tools. In addition, it's supported on macOS, iOS, Android, and soon Linux. Its sync capabilities allow you to have favorites, passwords, and custom settings across all your devices – at home and at work.
Edge proudly boasts its highest-rated protection against phishing and malware with SmartScreen.


Application Guard allows Microsoft Edge to run in an isolated container – preventing infiltration to the device OS and your corporate network.


Microsoft Edge has built-in tools that work across Microsoft 365 to manage data governance.


Run Legacy Applications with Enterprise Mode
If your organization uses applications that rely on legacy browsers, Microsoft Edge can be configured in Enterprise Mode. Enterprise Mode can be used with modern and legacy websites. With Edge configured for Enterprise Mode, you can access legacy websites within the same browser instance. For example, with a site configured to open in the context of IE, Edge seamlessly transitions within the same browser instance without launching a separate IE window. This creates a more enhanced experience for users.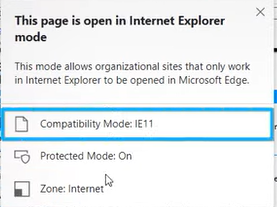 How to Configure Enterprise Mode/span>
If you already have an Enterprise Mode site list that was built using v.2 schema, you can use the existing XML. If not, you can configure one.
You need to download the Enterprise Mode Site List Manager (schema v.2) from here: https://www.microsoft.com/en-us/download/details.aspx?id=49974
Launch Enterprise Mode Site List Manager and select "Add" to add a site



Select the context you want the site to run in (None, IE, or Edge). The option "None" will allow the site to be open within the context of the currently running browser.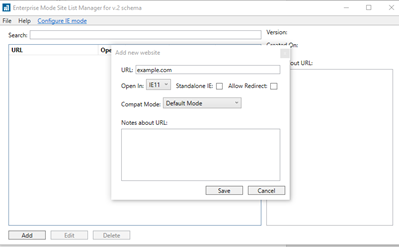 Leaving the checkbox for "Standalone IE" unchecked is recommended and will allow everything to stay in the context of the Edge browser and avoid multiple browser windows from opening.


Once sites are configured, save the file as an XML that can be used with Group Policy.
Enable Enterprise Mode in Group Policy
Open Group Policy Editor and navigate to the following:
Computer Configuration>Administrative Templates>Windows Components>Internet Explorer


"Use the Enterprise Mode IE website list"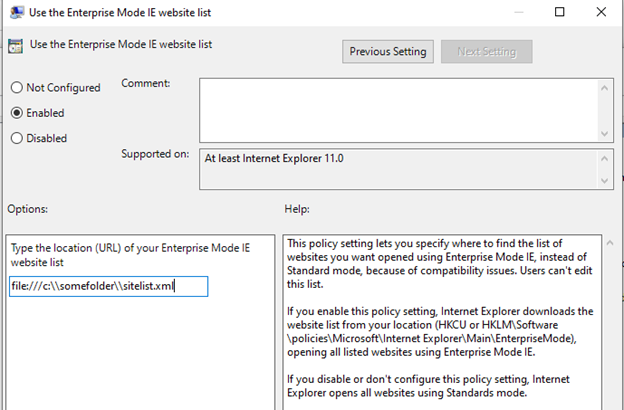 Type in the location of your SiteList.xml (This can be HTTPS, Network UNC, or Local File). If you are using a network location and you have remote users, ensure they can connect to the network location or configure a delivery method in which they can have the file stored locally.


To verify the policy is set, open a browser, go to edge://policy and you should see two entries; one with the site list, the other showing it is enforced.

So, if you are an organization holding back on using Microsoft's new Edge browser due to legacy apps that require previous browser versions, hold back no longer! Enterprise Mode can be configured and provide your organization a more secure and seamless transition across all on-prem and remote devices!
The new Microsoft Edge
https://www.microsoft.com/en-us/edge/business?&OCID=AID2100871_SEM_EAIaIQobChMIsofG4Jmo7AIVTNbACh2UHwbGEAAYASAAEgJ69PD_BwE:G:s&ef_id=EAIaIQobChMIsofG4Jmo7AIVTNbACh2UHwbGEAAYASAAEgJ69PD_BwE:G:s
Microsoft Edge Browser: Security, Compatibility, and Update Management (Chromium | 2020)
https://www.youtube.com/watch?v=uMmh_gNaM4I&feature=youtu.be&t=384
For detailed information on Enterprise Mode Site List
https://docs.microsoft.com/en-us/internet-explorer/ie11-deploy-guide/use-the-enterprise-mode-site-list-manager
KiZAN is a Microsoft National Solutions Provider with numerous gold and silver Microsoft competencies, including gold security and gold enterprise mobility management. Our primary offices are located in Louisville, KY, and Cincinnati, OH, with additional sales offices located in Tennessee, Indiana, Michigan, Pennsylvania, Florida, North Carolina, South Carolina, and Georgia.