Winners to be recognized at Microsoft Inspire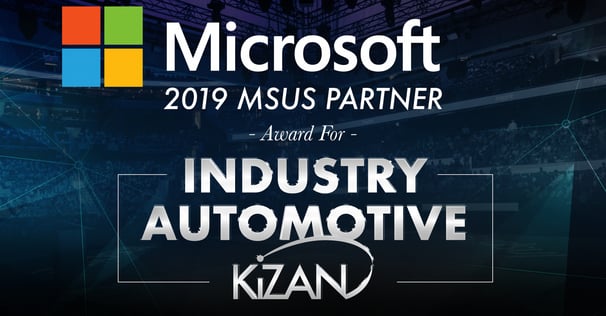 Louisville, KY/Cincinnati, OH: KiZAN Technologies, a Microsoft National Solutions Integrator, has been selected to receive the Microsoft 2019 MSUS Partner Award for Industry – Automotive.
What it is: The Microsoft 2019 MSUS Partner Award for Industry – Automotive recognizes that KiZAN has shown leadership in customer impact, solution innovation, deployment, and exceptional use of advanced features in Microsoft technologies over the past year.
The MSUS Awards focus on US-specific partner impact and the winners are selected from thousands of nominations.
Background: At the 2018 Digital Transformation Academy, the Microsoft Account Team contacted KIZAN regarding a large US automaker's digital transformation to the Cloud and deployment of Microsoft 365 across the organization. The deployment will include migrations for Exchange, Teams, Office Pro Plus, Yammer and Intune for nearly 200,000 users, and the migration of 45+ TB of content to SharePoint Online and OneDrive for Business.
The full digital transformation journey and migration to Office 365 will take over 30 months to complete and will include training, change management, user adoption, and migration services. As part of the migration to the cloud, the client is projected to decommission over 250 servers currently hosted within aging data centers. Employees will experience greater productivity and require less maintenance and support as a result of KiZAN's efforts.
About KiZAN: KiZAN is recognized as an expert nationally for Microsoft cloud technologies and has migrated over 350 organizations to Microsoft's productivity cloud (formerly Business Productivity Online Suite, now Office 365) since 2009. In FY19, KiZAN has engaged with 109 Microsoft 365 opportunities with organizations interested in accelerating their digital transformation. KiZAN is a Microsoft National Solutions Integrator and Tier 1 Cloud Solution Provider operating across the United States to develop modern workplace solutions that drive digital transformation.
Awards to be presented:
Microsoft Inspire
July 14 – 18
Mandalay Bay Conference Center
Las Vegas, Nevada