Business communication is the way employees, management and administration connect to achieve organizational goals.
Business communication can include areas such as:
Marketing
Brand Management
Advertising
Community involvement
Interpersonal communication
Employee engagement
Business communication channels typically include:
In person
Print
Internet
Broadcast
Business communication channels typically include:
Cloud-based communication – (e.g. Customer facing websites,

cloud apps,

mobile applications,

SharePoint, Facebook, email, instant messaging, etc.)
Telephone meetings, which allow for long distance speech
Face to face meetings
Physical media (Print, collateral materials, etc.)
How do people communicate

Amy Rees Anderson
Founder REES Capital
"Success in business is greatly impacted for better or worse by the way in which we communicate."

Methods of communication vary between individuals, but the standard model of communication is correctly depicted as a loop. However, there are many obstacles that can prevent successful communication of even simple messages.

Dr. John Lund
Author and communication expert
"Don`t communicate to be understood; rather,
communicate so as not to be misunderstood."
As depicted in the module below:
The "Sender" refers to the person or organization which is the source of the message.
"Feedforward" is a term describing the sender's assessment of the receiver's familiarity with the message, relationship with the sender, and history with the message's purpose.
The "Receiver" is the target for the intent and purpose of the message.
"Feedback" is the receiver's response to the message.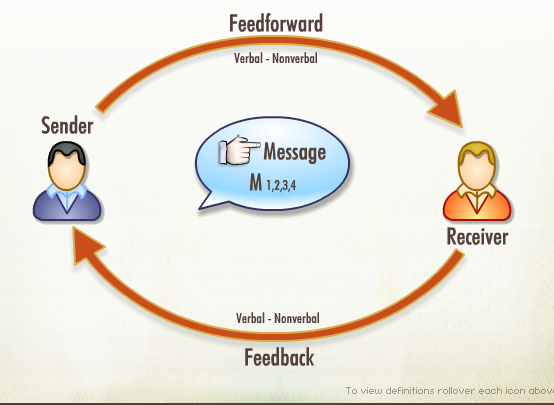 What is the importance of proper business communications?

It's not just what you say, but how you say it.
The goal of business communication should be to gain actionable feedback: e.g. project approvals, accepting a meeting invitation, accepting or declining a proposal, etc.
With healthy business communication:

Aveta Business Institute-Six Sigma Online
"You will also see an improvement in service quality. If the company interacts well with the clients and attends to their needs promptly, the customers are bound to continue doing business with the company. As you communicate with the clients, you will be able to figure out exactly what they want from you. This way, you can make the necessary improvements to products or services that the customers require."
Often, a sender does not attain the desired result of his/her message or does not receive any feedback at all, as if the sender has thrown the message into the abyss. When this happens, it helps to remember that messages are interpreted in 1 of 4 ways.
As the sender intended.
As the sender truly conveyed the message.
As the receiver perceived it.
As the receiver remembered and acted on it.
Why are messages misinterpreted?
Perhaps it is because the available and convenient method of communication for the sender is not always the desired method of the receiver. Additionally, the communication method is not always appropriate for the content of the message.
Would a text be appropriate for a marriage proposal?
When we are the receiver of a message, we interpret the message based on the following percentages.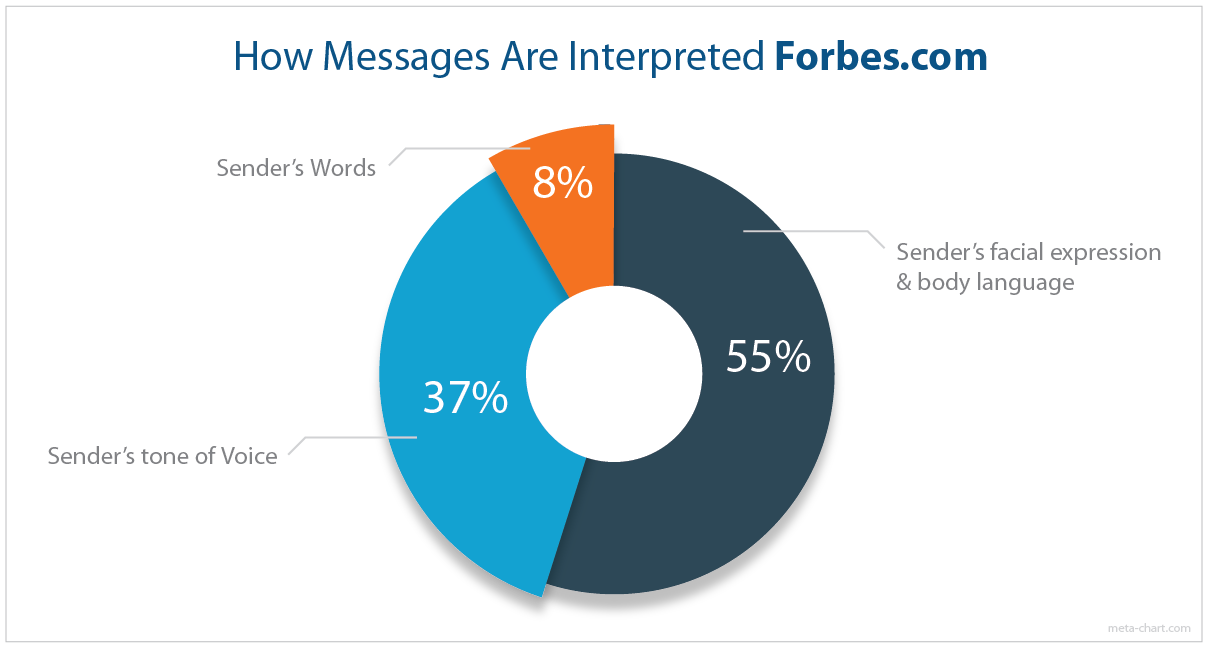 55% is based on the sender's facial expression and body language.
37% is based on the sender's tone of voice.
8% is based on the sender's words.
Message recipients place a higher importance on "non-verbal" queues.
Additionally, research has shown that men in general and women in business settings need to know three things before they are prepared to enter into a conversation:
Is what you want to talk about going to be painful?
How long is it going to take?
When the conversation is over, what will you want from me?


Match the method to the message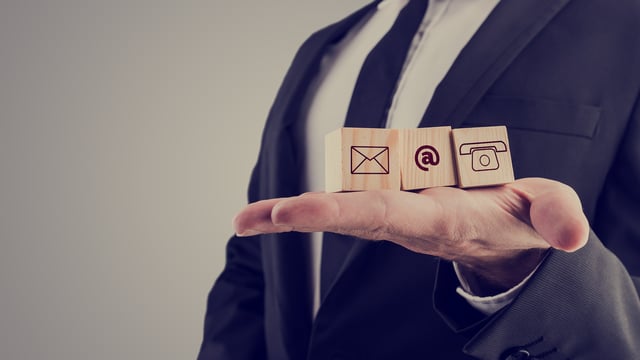 It is imperative that businesses consistently chose the correct method of communication with their employees and customers. The method of delivery should be chosen based upon its ability to convey the message's intent and produce the desired response.


Often, businesses are limited in their ability to connect with clients using the method the client expects. For example, reliance on email could non-verbally communicate that the business does not prioritize real-time input from the customer.


Similarly, consistently routing a customer to voicemail could cause that customer to interpret that the business does not value speaking with them, or that they are less important than other clients.


In both scenarios, the customer's interpretation of the message is most likely not the intent of the business. Rather, the customer's interpretation of the message could be a limitation of the business' systems or technology.
What can I do to improve business communications?

Greg Satell
Digital Tonto
"In order to innovate, it's not enough to just come up with big ideas, you also need to work hard to communicate them clearly."
Here is a simple list of ways to improve business communications
Manage BYOD.
Communications do not just take place in the office. Employees bring their own devices and will use the most convenient method to communicate. Allow your employees to take advantage of new technologies while still maintaining the appropriate corporate protocols.


Write with clarity and formality when emailing.
Overdependence on slang, abbreviations, or emoticons can cloud the intent of the message.


Archive your communications automatically.
When the speed of business accelerates, formal approvals and other relevant information are often communicated via text and email. Having the technology in place to automatically archive messages prevents accidental deletion of critical documents.


Manage your data with suitable technology.
Too much data can be worse than no data at all if you cannot find what you need. Software and hardware systems need to be in place to make the data indexable, searchable, accessible, and usable.


Share information.
Today's modern ability to share information online complements the venerable breakroom bulletin board. Ease of access to post and share information fosters innovation and productivity.


Use social media for business.
In 2016, 78% of Americans had a social media profile and are using it to communicate in new and exciting ways. Facebook, Twitter, and LinkedIn are consumer-facing technologies, but similar platforms such as Yammer exist to improve the communication and collaboration efforts of the business.


Meet in person when possible.
Electronic communications are convenient, but humans are still hardwired to communicate face to face.
Integrate communication systems. The communication methods chosen should provide more than just a "delivery" of the message. They should also integrate with other vital business systems like CRM and marketing automation. Integrating your communications will provide analytics to determine the impact of your messages.


Utilize video.
When in-person meetings are necessary but not possible, video conferencing is an affordable and advantageous method of communication that is readily available.


Steve Vonder Haar
Wainhouse Research
"Video has become ubiquitous. With cameras in the conference room, on the desktop and embedded in smartphones, the venues for creating video are now more commonplace than ever before. More organizations are deploying the technology platforms needed to transform any camera anywhere into a tool that helps executives to create high-impact business messages."
What is collaboration?


Source: Business Dictionary
General: Cooperative arrangement in which two or more parties (which may or may not have any previous relationship) work jointly towards a common goal.
Knowledge management (KM): Effective method of transferring 'know how' among individuals, therefore critical to creating and sustaining a competitive advantage. Collaboration is a key tenet of Knowledge Management.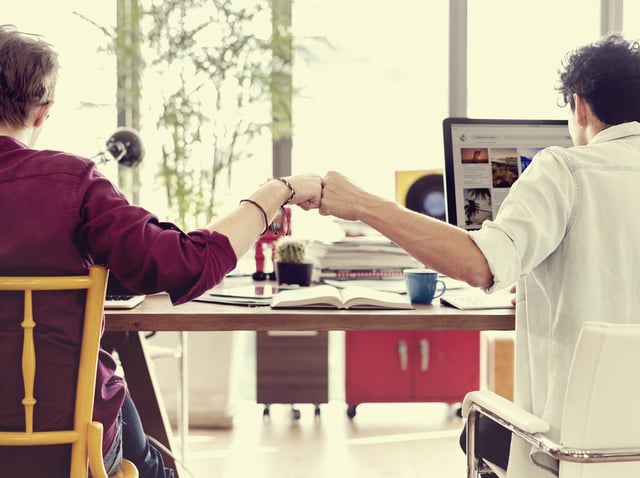 Collaboration is the method through which individual people work together to achieve a goal.
Four Stages of Collaboration


source: www.iowa.gov
Collaboration Handbook: Creating, Sustaining, and Enjoying the Journey.Michael Winer & Karen Ray

ENVISION RESULTS BY WORKING INDIVIDUAL-TO-INDIVIDUAL

Bring People Together – Have an Initiator; Choose Potential Members; Invite Participation; Take Time
Enhance Trust – Choose a Convener; Hold Effective Meetings; Involve Everyone in the Meetings, Disclose Self-Interests
Confirm Our Vision – Understand Vision Statements; Write a Vision Statement, Capture a Focus
Specify Desired Results – Define Desired Results; Think Strategically; Take Strategic Action

EMPOWER OURSELVES BY WORKING INDIVIDUAL-TO-ORGANIZATION

Confirm Organizational Roles – Document Progress; Obtain Authority Within the Home Organization; Secure Letters of Commitment; Clarify Authority Within the Collaboration
Resolve Conflicts – Expect Conflict; Clarify the Issues; Create a Conflict Resolution Process; Resolve the Unresolvable
Organize the Effort – Form a Structure; Determine Roles; Decide About Staffing; Secure Resources
Support the Members – Establish a Decision-Making Protocol; Create a Communications Plan; Reward Members in the Collaboration; Reward Other People

ENSURE SUCCESS BY WORKING ORGANIZATION TO ORGANIZATION

Manage the Work – Review the Vision and Desired Results; Lay Out an Action Plan; Create Accountability Standards; Build Collaborative Work Habits
Create Joint Systems – Decide the Degree of Closeness; Create and Approve Joint Agreements; Make Needed Organizational Changes
Evaluate the Results – Value Evaluation; Create an Evaluation Plan; Continually Improve the Work
Renew the Effort – Promote Adaptability and Flexibility; Retire Appropriate Members; Add New Members; Celebrate

ENDOW CONTINUITY BY WORKING COLLABORATION-TO-COMMUNITY

Create Visibility – Convey the Image; Promote the Results
Involve the Community – Teach the Value of Collaboration, Bring Diverse Interests together; Build Leadership; Hold Public Forums
Change the System – Understand the Present System; Plan Changes in the System; Begin to Change the System
End the Collaboration – Understand the Need for an Ending; Create Ending Rituals

Four Stages of Collaboration Graphic
(Click to view larger image)
What are the benefits of collaboration?
"It's time to put our heads together."
---every business meeting ever
Innovation: Collaboration unlocks the creative potential of the group. Diverse groups offer different ideas, and brainstorming can uncover innovative new approaches that solve complex business problems.


Synergism: Working collaboratively creates an environment that that is conducive to increased achievement. Finite working hours and limited resources are fragmented even further when departments/individuals work separately, and this leads to less accomplishment.


Financial savings: Collaboration delivers the maximum utilization of existing resources. Dual usage of assets and experience also makes intimidating assignments more workable.

Employee development: When teams collaborate to achieve goals, employees are exposed to new thinking styles, new negotiation tactics, and new methods to accomplish those goals. These new skills can be conveyed throughout the organization.


Waste reduction: Collaboration reveals the broader goals of the organization to the working groups. Teams, in turn, make better decisions when they understand the bigger picture.


Remote productivity: Research performed by Dell and Intel shows that a growing number of employees feel they do their best work outside of the office: at home, outdoors, or in public spaces. Effective collaboration tools are essential to attract and maintain the best and brightest employees.
Avoid duplication: Business collaboration helps ensure services aren't being needlessly duplicated. Teams are in close contact and regularly communicating.
What are the best methods of collaboration?


"Although teams that are large, virtual, diverse, and composed of highly educated specialists are increasingly crucial with challenging projects, those same four characteristics make it hard for teams to get anything done."
Effective collaboration is not achieved with a single conversation, with a memo, or with the implementation of a single software product. Collaboration is a cultural mindset, and is the result of systems and processes that are continually implemented, nurtured, and refined.
Unfortunately, collaboration does not come naturally to most teams. Furthermore, it is increasingly difficult to collaborate effectively as teams grow.
In fact, a study by the Harvard Business Review found that when the size of a team increases beyond 20 members, the tendency to collaborate naturally decreases
However, the same study discovered that under the right conditions, large teams could achieve high levels of collaboration. These successful organizations created culture that produced results with thoughtful investments throughout their organizations.
Collaboration Best Practices
Be Strategic: Fully embrace the culture of collaboration before determining the path forward. Most businesses are not exactly alike. Neither are the tools. The "how's" of collaboration are secondary to the "why's."


Lead by Example: The collaborative efforts of the organization will be directly proportional to that of the executive leadership. Managers need to walk the walk and be open and accessible. They need to utilize the tools and provide visible support and engagement. Executives need to be champions for collaboration.


Be a mentor: Coaching and mentoring should be engrained within even routine behaviors. Knowledge should be looked at as a gift to share with others, not a rare commodity that needs to be hoarded.


Train, Train, Train: Not all individuals are naturally open and outgoing. Collaboration, as with other job skills, is learned via practice and repetition. HR departments should provide programs to assist in the development of these job skills specifically.

Additionally, proper training needs to be supplied for any tools that are implemented. Many software initiatives have failed not because of poor quality products, but because teams did not understand how to use the products effectively.
If you are unsure about where to begin, KiZAN can help.

What is unified communications?
"Unified Communications is a set of products that provides a consistent, unified user interface and user experience across multiple devices and media types, allowing your organization to experience the height of productivity and collaboration."
Some business communication tools, such as phones and chat software, enable "same time/different place" communication. Other communication tools, like email or Twitter, enable "different time/different place" communication that takes place at times that are convenient for the sender and receiver.
Unified communications (UC) integrate the two, allowing users to have easy access to all tools regardless of the device.
Ideally, a UC environment integrates back-end systems with front-end access points. For example, a Web conferencing system could be built on the IP telephony platform. In turn, the email client could interface with both systems to provide click-to-talk/chat/video functions.
Unified communications provide features such as team chat or automated call routing that benefit many areas of the business, including project management, CRM, or service desk automation.
Why do we need unified communications?


Steve Olenski,
Forbes Contributor
"Put simply the need to be able to communicate face-to-face across any and all mediums on any device at any time is paramount for brands wishing to survive and thrive in today's world."
With UC, businesses can connect people and information and produce wide-ranging and effective collaboration among teams and customers.
Unified Communications simplify the management of multiple streams of communication by providing employees with a unified inbox for all communications. Greater ease of use creates a streamlined customer experience.
For example, instead of endless on hold messages or hang-ups, voice and data messages can be redirected in real-time to the device that is closest to the recipient.
UC software can automatically convert emails to voice messages and vice-versa. A single management console consolidates all communications, including:
Instant messages
Web conferences
Calendars
Texts
Voicemails
Secure emails
And Screen shares.
UC converts communications into data chunks which can be securely encrypted and integrated into critical business functions and applications and can be the starting point for strategic Business Process Automation.
Benefits of Unified Communications
Expandability:
Additional users and locations added with minimal overhead


Productivity:
Business processes and workflows improved via automation (BPA)


Mobility:
Connected Workforce stays engaged regardless of location or device


Collaboration:
Teams and customers access and share voice, video, desktops, and data in real-time


Customer service:
Important customer communications responded to logically and efficiently for faster issue resolution
What is Microsoft Office 365?


Mary Branscombe
TechRadar
Office 365 has established itself as the definitive business cloud service bringing together familiar productivity services, plus an ongoing range of new features."
Employees today want to be productive wherever they go. They want to work faster and smarter across their favorite devices while staying current and connected. They want to have business tools that work as hard as they do.
Enter Microsoft Office 365, a sophisticated solution that fits the way your employees work today – and tomorrow. Beginning with Word, Excel, PowerPoint and Outlook, Office 365 provides all the familiar applications employees know.
Office 365 gives them a dynamic set of secure, cloud-connected capabilities, including secure file sharing, file storage, and online collaboration tools that enhance communication, collaboration, and productivity. And it keeps itself up-to-date, so everyone has the tools they need to do what they do best every day.
Office 365 plans for business include services such as Skype for Business web conferencing and Exchange Online hosted email for business and additional online storage with OneDrive for Business.
Many Office 365 plans also include the desktop version of the latest Office applications, which users can install across multiple computers and devices, including PCs, Macs, Android tablets, Android phones, iPad, and iPhone. The fully installed applications include Word, Excel, PowerPoint, OneNote, Outlook, Publisher, and Access. (Publisher and Access are available on PC only.)
When you have an active Office 365 subscription that includes the desktop version of Office, you always have the most up-to-date version of the applications.
Popular Office 365 Tools
Office Suite (Word, Excel, PowerPoint, Outlook, OneNote, Publisher, Access)
Exchange Online (email, calendar)
Skype for Business (messaging, video conferencing, screen sharing)
SharePoint Online (document collaboration and storage)
OneDrive for Business (cloud file storage)
Power BI (business intelligence)
Delve (social document discovery)
Video (secure video library)
Yammer (enterprise social networking)
Sway (presentation software)
Planner (project management)
KiZAN's team has the know-how to help you deploy Office 365 and experience the full potential of this powerful tool.
What is Messaging On-Premise?


Exchange lets you tailor your solution based on your unique needs and ensures that your communications are always available, while you remain in control.
The proliferation of communications channels and devices in the workplace is driving increased volume of communication. That's not always a good thing. Without the proper tools to help employees manage these communications effectively, productivity can suffer.
Microsoft Exchange helps increase productivity by assisting in the management of communications across multiple devices and facilitating better team collaboration.
Get more done, faster:
With an inbox that focuses on the relevant and important messages and sets up rules based on an individual's behavior.


Simplify and enhance collaboration:
With Office 365 Groups, which connects people, information, and the tools necessary to get more done together.


Empower teams:
With group inbox, calendar and conversation, which facilitate self-organization and keep work moving forward. It is among the best business email solutions for this reason.


Share in real-time:
With OneDrive for Business users can co-author in real time, and inform all team members automatically when a file is updated


Get information anywhere:
With the Outlook app for iOS and Android or Outlook on the web, content, conversations, tasks and schedules are accessible from any device.
What is Skype for Business?
Meet with up to 250 people—even if they're not using Skype for Business. All they need is a phone or internet connection.
At the heart of great teams is great communication. In a world where teams are often co-located – spread across multiple campuses or geographies – getting everyone connected can be a challenge.


Your employees want to connect seamlessly with their teams, and they expect to use a variety of methods and devices to do so.


Traditionally, connecting teams with great communication experiences across multiple channels meant introducing additional complexity in your infrastructure.


Now, with Skype for Business, it doesn't have to. You can simplify your infrastructure with one platform for calling, conferencing, video and sharing. A favorite among online meeting tools, teams can connect regardless of location using mobile apps across Windows, iOS, and Android, and work as though they're all in one room – even when they're not.


From collaborative team sessions to large broadcasts or dialing into conference using the phone, Skype for Business was designed for every meeting need, offering much more than traditional online meeting tools.


KiZAN has provided communication solutions for more than 25 years and has the knowledge and experience to successfully deploy Skype for Business in your organization and help you harness the power of this tool.
Related Resources
Download our Skype for Business ebook - 7 Technologies that Enhance Skype for Business
Download our Skype for Business ebook - Why a C-Level Executive Needs Skype for Business
Read our Blog Post - Skype for Business Meeting Turns Ugly!
Request a Skype for Business Discovery Session
Schedule a K-12 Skype for Business Demo
How do we get started with unified communications?


Shawn Grimes
Emmis Communications
"We chose KiZAN because of their experience with Skype for Business implementations. Their knowledge and experience have gone a long way to making the Skype for Business rollout a success."
Microsoft's Skype for Business solution is >enterprise ready and leading the way with a wide array of feature sets to accommodate the most unique business environments. The 14th annual Gartner Magic Quadrant for Unified Communications has Microsoft ranked in the top quadrant as Leader.For over 25 years KiZAN has been solving complex business issues. KiZAN can help connect your team, clients, and suppliers to deliver best-in-class unified communications.
KiZAN provides unique value by understanding the technology and processes that drive adoption.
Our key offerings help customers:
Get Started
Get Enabled
Get Adopted
Get Healthy
Go Further

(Download infographic by clicking this link!)
KiZAN's systematic methodology will identify and address the specific needs of your organization and will maximize the benefits of Skype For Business.
Our Unified Communications solutions include:
Microsoft Office 365: Modernize your workforce
Messaging On-Premise: Accomplish more across phones, tablets, desktop, and the Web
Skype for Business: Connect your teams with the experience they love
Learn more today!