Much of the buzz surrounding all things "tech" now revolves around a single word: "Cloud." The "Cloud" is everywhere. The "Cloud" is all-knowing. The "Cloud" is curing the diseases that science did not even know existed. "Cloud Cloud Cloud!"
The "Cloud" is surrounded with so much marketing hype we may rightly expect to be awestruck when we come into contact with it. In reality, the cloud is becoming more and more a part of our everyday lives in ways that probably go unnoticed.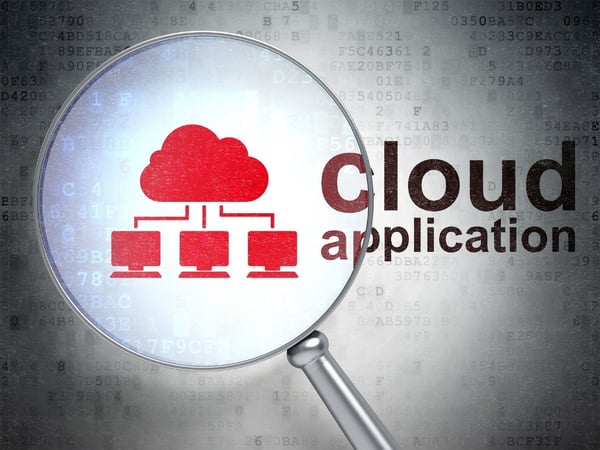 For example, many businesses are now using the cloud to provide new and better services for their customers. The consumer, for instance, may not realize that their banking institution has developed an online portal utilizing Platform as a Service (PaaS).

If you've never heard of PaaS, PaaS is a complete development and deployment ecosystem for the cloud. PaaS is Cloud technology that makes it simpler to deliver robust applications, and it is being adopted throughout major corporations across the globe.

You might be surprised to learn that many of the apps you currently enjoy on your PC or mobile device are technically cloud apps that don't actually "live" on your phone or PC. How is this possible? First, we need to provide a few definitions.
Desktop Application:
A desktop application lives on a single device at the user's location (phone, office computer, tablet, etc.).


Website Application
A web application lives entirely on a remote server and is accessed over the Internet through a web-browser.


Cloud Application
A cloud application is a software program that operates in the cloud but contains characteristics of both desktop and website applications.
Cloud App and Traditional App Similarities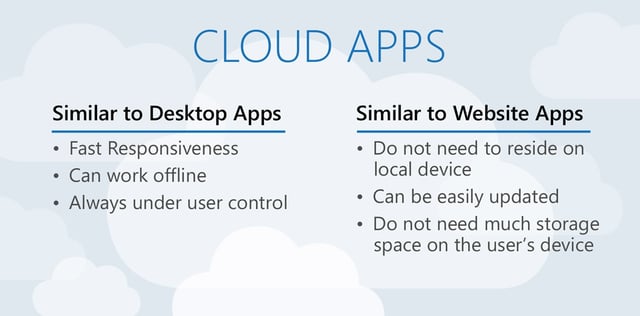 A well-written cloud app provides the fluidity of a desktop app along with the portability of a website application.
Benefits to Developers:
Why are developers and corporations delivering more cloud apps? In most cases, it's good for both the business and the consumer.
Less time coding/More time innovating
PaaS development tools can cut the time it takes to develop new apps. Time savings can then be applied to innovating new and beneficial features for customers.


Less time down/More time up
The cloud provides redundancy for critical servers. Typically, the failure of any one server would be an isolated and contained event that would not affect the entire platform. More redundancy equals greater uptime for the business to provide services and increased availability for the customer to consume services.


Make more money/Save more money
When software can reside in the cloud, access to the software can be provided as a subscription. Subscription pricing allows providers not only to monetize their investments better, but it also keeps costs affordable for users. Up front costs are typically reduced, software compliance is easily managed, and subscriptions allow users to scale up or down easily.
---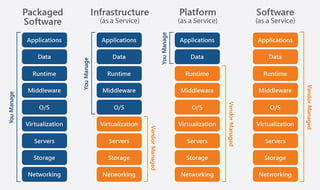 Want to learn more about developing for the cloud?
Click here to read our blog post
"Why build applications in the cloud?"
&
Schedule a FREE Mobile Development Discovery Session