Our curated list of weekly Azure news and notes delivered right to your inbox. Subscribe now.
September 23rd - September 27th, 2019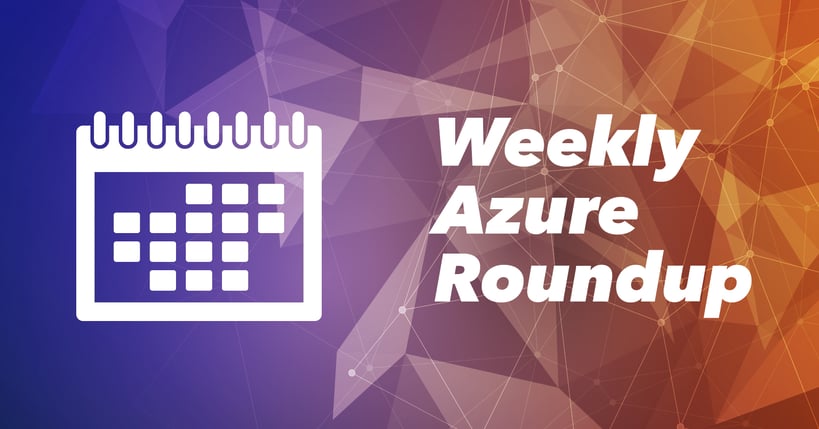 ---
Azure Sentinel general availability: A modern SIEM reimagined in the cloud
Azure Sentinel is now generally available. This marks an important milestone in the journey to redefine Security Information and Event Management (SIEM) for the cloud era. With Azure Sentinel, enterprises worldwide can now keep pace with the exponential growth in security data, improve security outcomes without adding analyst resources, and reduce hardware and operational costs.
---
Stay on top of best practices with Azure Advisor alerts
Advisor now offers
user-configurable alerts
so you can get automatically notified as soon as your best practice recommendations become available. Advisor alerts will allow you to act more quickly and efficiently to optimize your Azure resources and stay on top of your new recommendations.
---
Azure Security Center—1-click remediation for security recommendations is now available
To simplify remediation of security issues and to quickly improve your subscription's secure score, Security Center now allows you to remediate a recommendation on multiple resources with a single click.
---
Azure Cosmos DB recommendations keep you on the right track
Azure Cosmos DB gets updated frequently, so to make it easier to stay up-to-date, we've introduced automatic and tailored recommendations for all Azure Cosmos DB users. Recommendations—from upgrading SDK versions to migrating fixed containers to partitioned ones—now appear in the Azure portal when you browse your Azure Cosmos DB accounts.
---
Azure HPC Cache: Reducing latency between Azure and on-premises storage
Today we're previewing the Azure HPC Cache service, a new Azure offering that empowers organizations to more easily run large, complex high-performance computing (HPC) workloads in Azure. Azure HPC Cache reduces latency for applications where data may be tethered to existing data center infrastructure because of dataset sizes and operational scale.
---
Azure Security Center—Control container security recommendation using Azure Policy
Azure Security Center's recommendation to remediate vulnerabilities in container security can now be enabled or disabled via Azure Policy.
---