Our curated list of weekly Azure news and notes delivered right to your inbox. Subscribe now.
September 11th - September 18th, 2019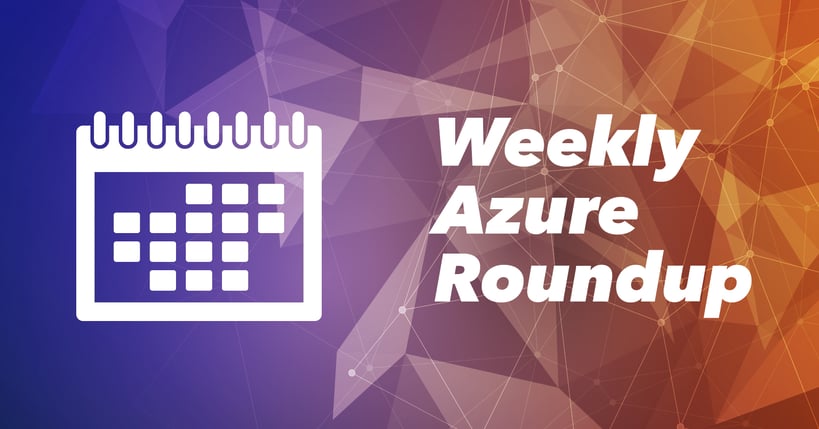 ---
Azure Backup support for large disks up to 30 TB is now in public preview
Azure Backup support for larger and more powerful Azure Managed Disks of up to 30 TB is now in public preview. This preview provides production level support for managed virtual machines (VMs).
---
Azure Cognitive Services Text Analytics—New sentiment analysis capability is now available
Cognitive Services Text Analytics has a new sentiment analysis capability supporting Japanese and Simplified Chinese languages in addition to the previously announced English language model.

---
Five best practices for unlocking IoT value
Accenture and Avanade won the 2019 Microsoft Internet of Things Partner of the Year award this past spring. At the Microsoft Inspire partner conference in July, Brendan Mislin, Managing Director, Industry X.0 IoT Lead at Accenture, shared some insights and best practices that have helped this award-winning partner unlock the value of Azure IoT for our mutual customers.
---
Monitoring on Azure HDInsight part 4: Workload metrics and logs
During normal operations when your Azure HDInsight clusters are healthy and performing optimally, you will likely focus your attention on monitoring the workloads running on your clusters and viewing relevant logs to assist with debugging. Azure HDInsight offers two tools that can be used to monitor cluster workloads: Apache Ambari and integration with Azure Monitor logs.
---
Azure HPC Cache: Reducing latency between Azure and on-premises storage
Today we're previewing the Azure HPC Cache service, a new Azure offering that empowers organizations to more easily run large, complex high-performance computing (HPC) workloads in Azure. Azure HPC Cache reduces latency for applications where data may be tethered to existing data center infrastructure because of dataset sizes and operational scale.
---
Satellite connectivity expands reach of Azure ExpressRoute across the globe
Staying connected to access and ingest data in today's highly distributed application environments is paramount for any enterprise. Many businesses need to operate in and across highly unpredictable and challenging conditions. For example, energy, farming, mining, and shipping often need to operate in remote, rural, or other isolated locations with poor network connectivity.
---