Our curated list of weekly Azure news and notes delivered right to your inbox. Subscribe now.
July 22nd - 26th, 2019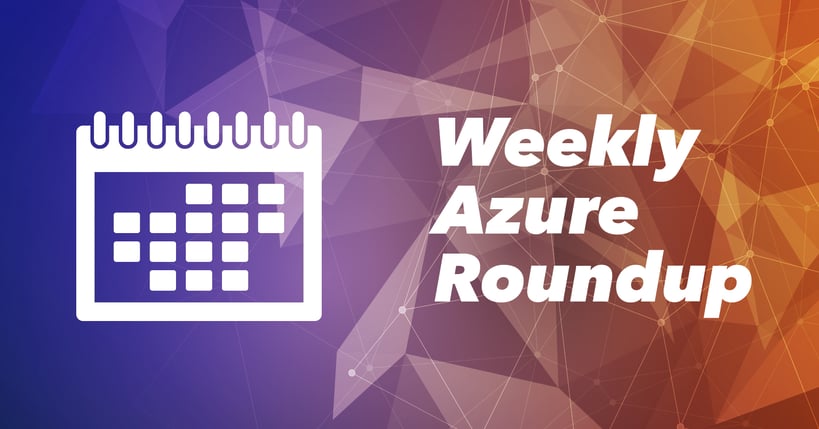 ---
Silo busting 2.0—Multi-protocol access for Azure Data Lake Storage
We are very excited to announce the preview of multi-protocol access for Azure Data Lake Storage! Azure Data Lake Storage is a unique cloud storage solution for analytics that offers multi-protocol access to the same data. Multi-protocol access to the same data, via Azure Blob storage API and Azure Data Lake Storage API, allows you to leverage existing object storage capabilities on Data Lake Storage accounts, which are hierarchical namespace-enabled storage accounts built on top of Blob storage.
---
New capabilities in Stream Analytics reduce development time for big data apps
Azure Stream Analytics is a fully managed PaaS offering that enables real-time analytics and complex event processing on fast moving data streams. Thanks to zero-code integration with over 15 Azure services, developers and data engineers can easily build complex pipelines for hot-path analytics within a few minutes. Today, at Inspire, we are announcing various new innovations in Stream Analytics that help further reduce time to value for solutions that are powered by real-time insights.
---
Conversational AI updates for July 2019
With the Bot Framework release in July, we are happy to share new releases of Bot Framework SDK 4.5 and preview of 4.6, updates to our developer tools, and new channels in Azure Bot Service. We'll use the opportunity to provide additional updates for the Conversational AI releases from Microsoft.
---
Azure IoT Edge Jenkins plugin is now generally available
As we all know, Jenkins is a popular open source automation server supporting continuous integration as well as continuous delivery. Azure IoT Edge is a fully managed service built on Azure IoT Hub. Deploy your cloud workloads—artificial intelligence, Azure and third-party services, or your own business logic—to run on Internet of Things (IoT) edge devices via standard containers. By moving certain workloads to the edge of the network, your devices spend less time communicating with the cloud, react more quickly to local changes, and operate reliably even in extended offline periods.
---
Introducing proximity placement groups
Azure proximity placement groups represent a new logical grouping capability for your Azure Virtual Machines, which in turn is used as a deployment constraint when selecting where to place your virtual machines. In fact, when you assign your virtual machines to a proximity placement group, the virtual machines are placed in the same data center, resulting in lower and deterministic latency for your applications.
---

Five Critical Areas When Migrating Your Workloads to the Cloud
Register for this webinar, featuring a guest speaker from IDC and experts from Microsoft, to find out how to overcome migration challenges as you move business-critical applications to the public cloud.

Learn about these five areas:
Selecting the right computing option for your workload.

Choosing the cloud consumption models to best fit your requirements.

Reducing operating costs by leveraging application and data services available within the cloud platform.

Addressing security and management challenges.

Transforming your applications with new public cloud services.
---