Our curated list of weekly Azure news and notes delivered right to your inbox. Subscribe now.
July 8th - 12th, 2019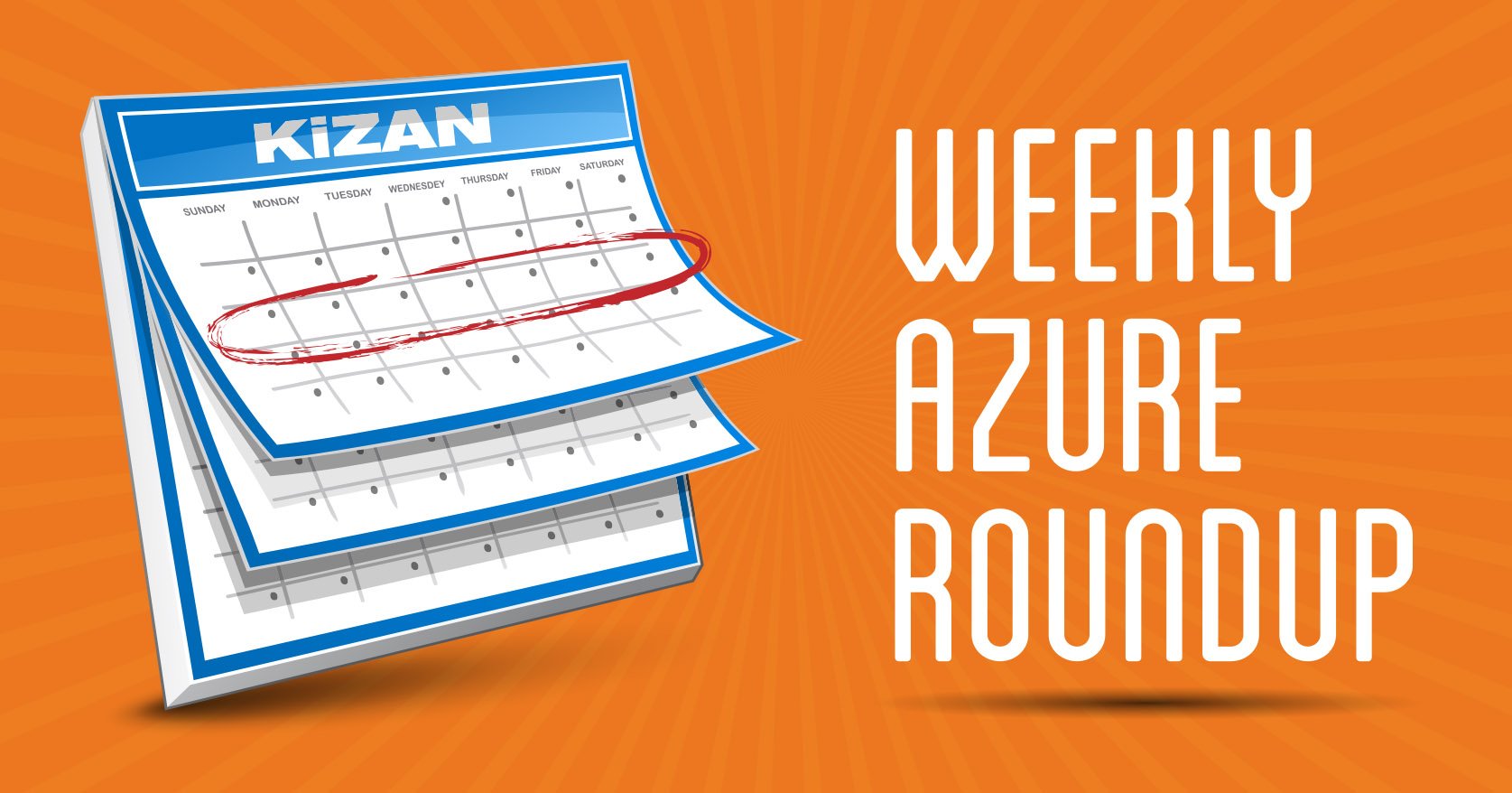 ---
Thanks for 10 years and welcome to a new chapter in SQL innovation
July 9, 2019, marks the end of extended support for SQL Server 2008 and 2008 R2. These releases transformed the database industry, with all the core components of a database platform built-in at a fraction of the cost of other databases. Now that support for the SQL Server 2008 and R2 versions is ending, Azure provides the best choice of destinations to secure and modernize your database.
(See related KiZAN SQL Server Modernization offer)
---
Vorpal, AT&T and Microsoft test using the cloud to make airspace safer for drones
Israeli startup Vorpal specializes in tracking and, ideally, preventing those near misses. Their drone detection and tracking solution, VigilAir, uses a geographically distributed network of sensors that scan relevant frequencies to identify drone transmissions, allowing them to identify and track drones and their operators in near-real time.
---
Azure Blockchain Workbench 1.7.0 integration with Azure Blockchain Service
We're excited to share the release of Microsoft Azure Blockchain Workbench 1.7.0, which along with our new Azure Blockchain Service, can further enhance your blockchain development and projects. You can deploy a new instance of Blockchain Workbench through the Azure portal or upgrade your existing deployments to 1.7.0 using the upgrade script.
---
Azure.Source is going on hiatus--Read volume 89
Topics include: General availability of Azure premium files, leveraging complex data to build advanced search applications with Azure Search, and simplified compliance with PCI DSS Azure Blueprint
---

Solve your big data and AI challenges with an Azure Databricks use case e-book
Explore three common analytics use cases—a churn analysis model, a recommendations engine, and an intrusion detection demo. In this e-book, you'll:
Walk through practical use cases with pre-built Azure Databricks notebooks to run relevant data models.

Get examples of working code and step-by-step explanations of three common analytics use cases.

Train yourself on the analytics platform that lets you collaborate across work groups and avoid business silos.
---
Saving the seas: how AI is helping to protect our oceans
IMT Atlantique was one of the winners of the AI for Earth EU Oceans award, an initiative for European research organizations focusing on ocean-related challenges. The grants equip these researchers with AI tools, and cloud computing resources to help develop their work. These are part of Microsoft's broader AI for Earth program, a five-year $50 million commitment, which has awarded more than 236 grants in larger projects since its inception two years ago.
---
Helping move healthcare organizations to Azure
Today's healthcare organizations are expected to be agile, reduce costs, and direct capital toward revenue generating activities that improve patient outcomes. The cloud is a key part of the answer, but implementing a new solution on the cloud also requires new skills especially around governance, compliance with HIPAA, and security practices. Many healthcare organizations look to an experienced partner to help them migrate solutions from on-premises to the cloud, while building in the right set of structures to seamlessly handle known and future challenges.
---
Azure FXT Edge Filer now generally available
Scaling and optimizing hybrid network-attached storage (NAS) performance gets a boost today with the general availability of the Microsoft Azure FXT Edge Filer, a caching appliance that integrates on-premises network-attached storage and Azure Blob Storage. The Azure FXT Edge Filer creates a performance tier between compute and file storage and provides high-throughput and low-latency network file system (NFS) to high-performance computing (HPC) applications running on Linux compute farms, as well as the ability to tier storage data to Azure Blob Storage.
---

---

Microsoft Azure @Azure
.@Flipgrid will now automatically transcribe videos and include closed captions, leveraging Microsoft #Azure.
Read more about the announcement: