Our curated list of weekly Azure news and notes delivered right to your inbox. Subscribe now.
August 4th - August 9th, 2019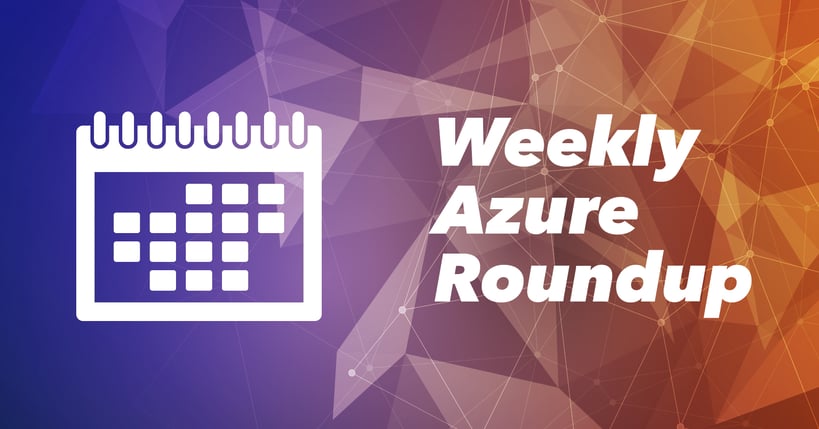 ---
Introducing Azure Dedicated Host
We are excited to announce the preview of Azure Dedicated Host, a new Azure service that enables you to run your organization's Linux and Windows virtual machines on single-tenant physical servers. Azure Dedicated Hosts provide you with visibility and control to help address corporate compliance and regulatory requirements.
---
Azure storage pricing reduction in some regions
Block blob storage is used for streaming and storing documents, videos, pictures, backups, and other unstructured text or binary data.
Total cost of block blob storage depends on:
Volume of data stored per month.

Quantity and types of operations performed, along with any data transfer costs.

Data redundancy option selected.
---
New Tools are now available in Azure Cloud Shell
Azure Cloud Shell now has some new tools. Cloud Shell provides an interactive, browser-accessible, authenticated shell for managing Azure resources from virtually anywhere. The goal of Azure Cloud Shell is to ensure that you always have access to an up-to-date environment with the latest tools for management. Our efforts are driven by your feedback and for this latest release we incorporated some of the most popular requests.
---
Microsoft Mechanics
How to run VMware in Azure - Demo Tutorial
Run a bare metal VMware private cloud in Azure without using nested virtualization or re-platforming your virtual machines, thanks to Azure VMware Solution by CloudSimple. Markus Hain from the Azure engineering team walks through the experience coming from an on-premises VMware vSphere environment, provisioning an Azure VMware Solution private cloud, getting both environments to communicate, and what you can do once the service is up and running.

Watch Now
---
Matt Soseman
Azure Sentinel: Microsoft's SIEM + SOAR Solution
In this video you will learn at a high level what Azure Sentinel is, Microsoft's SIEM + SOAR solution. ​

Watch Now
---