Our curated list of weekly Azure news and notes delivered right to your inbox. Subscribe now.
August 26th - August 30th, 2019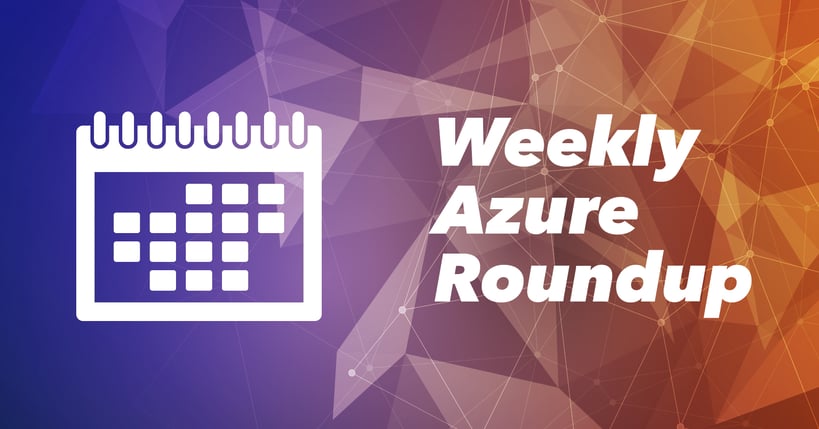 ---
Security Center now has single click remediation to boost your security posture (in preview)
In order to simplify remediation of security misconfigurations and help you to quickly improve your secure score, we've added a new capability that allows you to remediate a recommendation on a bulk of resources in a single click.
---
The Azure Security Architect Map now available
The purpose of the Solution Architect map is to give a high-level view and quick insights about what is available and how to choose between the different services according to some functional needs. It covers a few key areas, mostly about putting in place the foundations of an Azure Platform, and cannot go into the details because this would make the map very indigestible.
The companion Azure Security Architect Map was recently released.
---
Announcing pricing decrease for Azure App Service on the Premium plan
To make the Linux hosting option even easier for customers to work on with higher scale and performance, we are happy to announce a price reduction of an average of 35% for Linux App Service on the Premium v2 plan (pricing may vary by regional meters).
---
Plan migration of your Hyper-V servers using Azure Migrate Server Assessment
This is the first in a series of blogs about the new capabilities in Azure Migrate. This post talks about capabilities in Server Assessment that help you plan for migration of Hyper-V servers. This capability is now generally available as part of the Server Assessment feature of Azure Migrate. After assessing your servers for migration, you can migrate your servers using Microsoft's Server Migration solution available on Azure Migrate. You can get started right away by creating an Azure Migrate project.
---
Preview of custom content in Azure Policy guest configuration
Today we are announcing a preview of a new feature of Azure Policy. The guest configuration capability, which audits settings inside Linux and Windows virtual machines (VMs), is now ready for customers to author and publish custom content.
---
SQL data discovery and classification for Azure SQL Database is now available
SQL data discovery and classification, which provides advanced capabilities built into Azure SQL Database for discovering, classifying, labeling, and protecting sensitive data, is now available. SQL Data Discovery and Classification is part of the unified Advanced Data Security (ADS) package, offering a set of advanced SQL security capabilities, including vulnerability assessment and advanced threat protection.
---
Help protect large data disks Azure Site Recovery
Protect large data disks of up to 8 TB in size with Azure Site Recovery. This capability is available to all Azure Virtual Machines on managed disks, as well as all VMware and physical machines replicating to managed disks in Azure.
This is applicable to A2A, V2A, and physical to Azure.
---
Azure and VMware innovation and momentum
In addition to expanding to more regions, we are continuing to add new capabilities to Azure VMware Solutions and deliver seamless integration with native Azure services. One example is how we're expanding the supported Azure VMware Solutions storage options to include Azure NetApp Files by the end of the year. This new capability will allow IT organizations to more easily run storage intensive workloads on Azure VMware Solutions. We are committed to continuously innovating and delivering capabilities based on customer feedback.
---
Azure Load Balancer becomes more efficient
Azure introduced an advanced, more efficient Load Balancer platform in late 2017. This platform adds a whole new set of abilities for customer workloads using the new Standard Load Balancer. One of the key additions the new Load Balancer platform brings, is a simplified, more predictable and efficient outbound connectivity management.
While already integrated with Standard Load Balancer, we are now bringing this advantage to the rest of Azure deployments.
---
Azure Monitor Application Insights variable retention is now available in preview
It's now possible to configure the data retention on your Azure Monitor Application Insights resources from 30 days up to 730 days.
---
Latency is the new currency of the Cloud: Announcing 31 new Azure edge sites
The latency when accessing cloud-based services can be the inhibitor to cloud adoption or migration. In most cases, this is caused by commercial internet connections that aren't tailored to today's global cloud needs. Through deployment and operation of globally and strategically placed edge sites, Microsoft dramatically accelerates the performance and experience when you are accessing apps, content, or services such as Azure and Office 365 on the Microsoft global network.
---
Microsoft Azure available from new cloud regions in Switzerland
Today, we're announcing the availability of Azure from our new cloud regions in Switzerland. These new regions and our ongoing global expansion are in response to customer demand as more industry leaders choose Microsoft's cloud services to further their digital transformations. As we enter new markets, we work to address scenarios where data residency is of critical importance, especially for highly regulated industries seeking the compliance standards and extensive security offered by Azure.
---
Azure Data Factory Mapping Data Flows Adds SQL Scripts to Sink Transformation
Data Factory has added a new capability that allows you to execute custom SQL scripts from your SQL Sink transformation in Mapping Data Flows. Now you can easily perform options such as disabling indexes, allows identity inserts, and other DDL/DML operations from Data Flows.
---
Track the health of your disaster recovery with Log Analytics
Once you adopt Azure Site Recovery, monitoring of your setup can become a very involved exercise. You'll need to ensure that the replication for all protected instances continue and that virtual machines are always ready for failover. While Azure Site Recovery solves this need by providing point-in-time health status, active health alerts, and the latest 72 hour trends, it still needs several man hours to keep track and analyze these signals. The problem is aggravated when the number of protected instances grow. It often needs a team of disaster recovery operators to do this for hundreds of virtual machines.
---
Azure Backup now provides soft delete capability to help protect hybrid backups
We now provide soft delete capability to help protect cloud backups for IaaS virtual machines from accidental as well as malicious deletion.
It's important to protect production data as well as backup data against sophisticated attacks, and to have a strong security strategy in place to ensure data recoverability. Azure Backup security features are built on the principles of prevention, alerting, and recovery, helping to increase security against attacks and equip you with a robust backup solution.
---