Our curated list of weekly Azure news and notes delivered right to your inbox. Subscribe now.
July 29th - August 2nd, 2019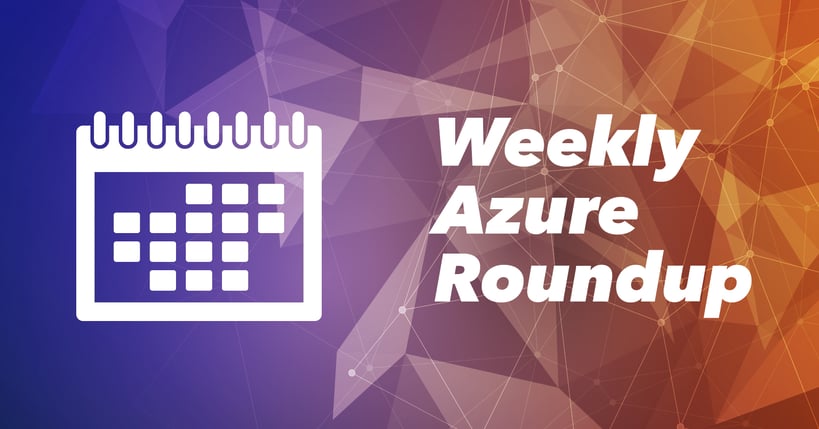 ---
Microsoft explains the Windows Defender rebrand to Microsoft Defender
Microsoft announced that it's expanding its Windows Defender ATP service to non-Windows devices. Also, to reflect this change, the company rebranded the Windows Defender ATP to Microsoft Defender ATP. The change, however, didn't reflect on Windows 10, but it now looks like we're not far away from getting the Microsoft Defender on Windows 10 PCs.
---

The Azure Podcast - Episode 289 - HashiCorp and Azure
Cale and Sujit talk to Senior Software Engineer Eugene Chuvyrov about the partnership between HashiCorp and Microsoft and how customers can benefit by leveraging HashiCorp's products on Azure. He dives into Terraform, Consul and Vault and provides some nice tips on how and why customers should use these products on Azure.
---

Analyze Data with Azure Notebooks
Azure Notebooks is a cloud-based platform for building and running Jupyter notebooks..

Learn about:
How to create a Notebook

Upload, manipulate, and visualize data in a notebook
---
The Hybrid Cloud
One hour "Introduction to Azure"
Learn how:
Azure helps businesses

About its various services

How to use the tools
---

[TIP] Did you know that when you press the G and D keys together at the same time on a keyboard within the #Azure Portal it brings up the Dashboard? Learn more about the different Keyboard shortcuts possible within portal here!
---
[TIP] Did your #Azure VM reboot unexpectedly? Understand what that means with this quick guide:
---
Microsoft Security Intelligence @MsftSecIntel
Most #machinelearning models are trained on a mix of malicious & clean features. Attackers try to throw these models off balance by stuffing clean features into malware, but that doesn't work against a new class of detection models called monotonic models.
---
The Content Moderator API scans text, image, and video content for material that may be undesirable and flags it for review. Learn more about the Content Moderator #API, part of #Azure Cognitive Services, with this introduction:
---
Microsoft Security Intelligence @MsftSecIntel
The new Microsoft Defender ATP evaluation lab--now in public preview--provides an environment for you to take the product out for a spin. With a click of a button, you can create up to three Windows 10 machines onboarded to your environment.
---
Microsoft Azure @Azure
Azure is rapidly becoming the public cloud of choice for #FinServ enterprises. Find out why Global Financial Services Institutions are choosing Azure:
---
Announcing Prometheus integration with #Azure Monitor for containers is now in preview!
---
Microsoft Azure @Azure
Modernize your #apps. Migrate to #Azure and take advantage of optimized infrastructure and reduced security costs:
(related application migration offer)
---