Our curated list of weekly Azure news and notes delivered right to your inbox. Subscribe now.
August 12th - August 16th, 2019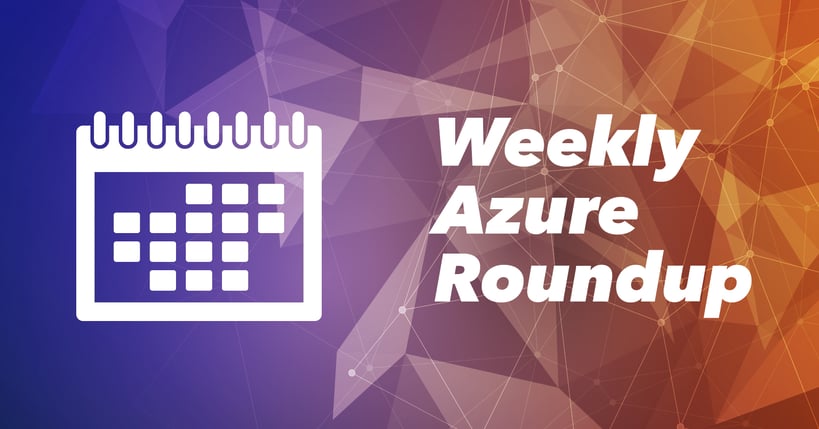 ---
Microsoft welcomes new Chief Medical Officer Dr. David Rhew
The healthcare industry is in the middle of an exciting transformation as the cloud, AI, and technology innovations unlock new efficiencies in healthcare delivery and discover new breakthroughs in scientific exploration. For Microsoft to enable customers and partners during this transformation, it's important that we continue to recruit experts in this field who truly understand the challenges of healthcare delivery and operations across the spectrum of the industry's physical and digital realms.
---
Announcing the general availability of Azure Ultra Disk Storage
Today, we are announcing the general availability (GA) of Microsoft Azure Ultra Disk Storage—a new Managed Disks offering that delivers unprecedented and extremely scalable performance with sub-millisecond latency for the most demanding Azure Virtual Machines and container workloads. With Ultra Disk Storage, customers are now able to lift-and-shift mission critical enterprise applications to the cloud including applications like SAP HANA, top tier SQL databases such as SQL Server, Oracle DB, MySQL, and PostgreSQL, as well as NoSQL databases such as MongoDB and Cassandra.
---
Geo Zone Redundant Storage in Azure now in preview
Announcing the preview of Geo Zone Redundant Storage in Azure. Geo Zone Redundant Storage provides a great balance of high performance, high availability, and disaster recovery and is beneficial when building highly available applications or services in Azure.
---
Improving Azure Virtual Machines resiliency with Project Tardigrade
Project Tardigrade is a broad platform resiliency initiative which employs numerous mitigation strategies with the purpose of ensuring your VMs are not impacted due to any unanticipated host behavior. This includes enabling components to self-heal and quickly recover from potential failures to prevent impact to your workloads. Even in the rare cases of critical host faults, our priority is to preserve and protect your VMs from these spontaneous events to allow your workloads to run seamlessly.
---
Announcing Azure Backup limited public preview support for large disks up to 30TB size
Today, we are announcing the limited public preview of larger and more powerful Azure Managed Disks of up to 30 TB size. This preview provides production level support for managed virtual machines. You can seamlessly enroll to the preview without any impact to your on-going backups. Once the subscription is enrolled into the preview, all the virtual machines with disk sizes up to 30TB should be successfully backed up.
---
Better security with enhanced access control experience in Azure Files
We are making it easier for customers to "lift and shift" applications to the cloud while maintaining the same security model used on-premises with the general availability of Azure Active Directory Domain Services (Azure AD DS) authentication for Azure Files. By integrating Azure AD DS, you can mount your Azure file share over SMB using Azure Active Directory (Azure AD) credentials from Azure AD DS domain joined Windows virtual machines (VMs) with NTFS access control lists (ACLs) enforced.
---
Microsoft Developer
Data Exposed | SQL Database Connectivity Explained
This session explains the basics of how connectivity works for SQL Database and how you can use network access controls to securely access SQL Database.

Watch Now
---
Update to Azure SQL Database serverless increases compute scale limits by 4x
Azure SQL Database serverless automatically scales compute for single databases based on workload demand and bills for compute used per second. We are pleased to announce the max vcore limit has increased by 4x to 16 vcores and provides greater compute scaling headroom for serverless databases with more demanding workloads.
---
Better together, synergistic results from digital transformation
Intelligent manufacturing transformation can bring great changes, such as connecting the sales organization with field services. Moving to the cloud also provides benefits such as an intelligent supply chain and innovations enabled by connected products. As such, digital transformation is the goal of many, as it can mean finding a competitive advantage.
The Azure platform offers a wealth of services for partners to enhance, extend, and build industry solutions. Here we describe how one Microsoft partner uses Azure to solve a unique problem.
---

Announced at #BlackHat2019, #Azure Security Lab allows security researchers to confidently and aggressively emulate criminal hacking activity in a customer-safe #cloud environment. Learn more about this sandbox-like environment in the MSRC blog
---