Last month I had the opportunity to participate in Startup Weekend, an event held twice a year in Louisville Kentucky, and in hundreds of cities around the world.


Close to 100 developers, designers, "hustlers" and mentors gathered Friday evening for a chance to pitch their idea for a business in 60 seconds. Among the almost 50 pitches, 11 were selected, based on audience voting, and got the opportunity to "hire" other participants to form a team for the weekend.


I was fortunate enough to be one of those eleven people. So Friday night, I assembled a team, and we began the first leg of the competition: customer discovery. To validate whether my idea "An app bar patrons would use when out singing karaoke" was something people wanted and would use, we spoke to almost 100 people out singing karaoke late Friday night. We also talked with 11 karaoke hosts. From these interviews, we generated a list of features hosts and singers said they would love to have.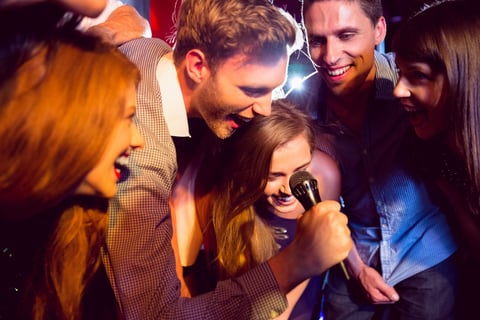 Early the next morning, we started phase two: execution of our idea. There was no way for us to develop a fully functioning application during a 54-hour competition. But thanks to the tireless work of our team's rock star developer and fellow KiZANite Justin Tindle (@justintindle), by Saturday evening we had an MVP (Minimum Viable Product) ready to take out and use.

Back at the karaoke bar Saturday night, people used our app to search for songs, send their requests to the host, and tip him via PayPal—we generated $42 in revenue the first night!


Hot on the heels of a successful field test, we charged into Sunday morning ready to work on the third and final part of the competition: how to turn $42 of tips into a viable business model.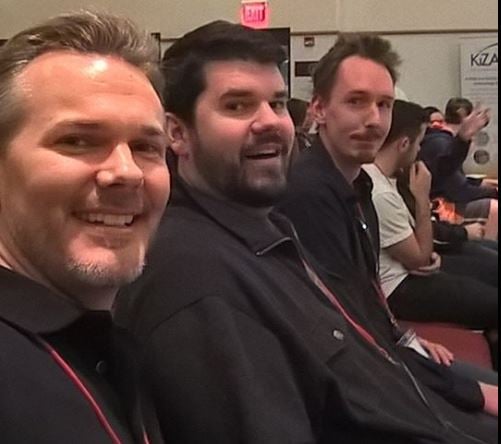 (Nathan Fornwalt, Justin Tindle and Jonathan Vanderford)


When I first had the idea for this app a few years ago, nothing like it existed. However, our team's research found a company just a few hours away offering a very similar product. They have a two-year head start on us in development and funding but were also operating a very different business model than the one we created.

Unexpected bonus—our competition did quite a bit of market research that we discovered via their website, giving us hard numbers for our presentation rather than making estimations.


We went into Sunday night's final pitch competition feeling proud of the work our team had put in over the weekend, but running on the last bit of energy we could muster after two very late nights interviewing and testing. Each team had a few minutes to present their work to a panel of three judges.

As we sat through the presentations, I was amazed by what some of the teams were able to accomplish. Some raised huge amounts of revenue through everything from crowdfunding over $2,000, to making a first sale worth almost $600, to getting a three-year contract with a total value of $185,000! Others talked to more customers than we did, completed more research and in some cases came up with ideas that could have a huge impact on the world—even saving lives.


The experience was in intense, and we were both excited and humbled to be part of such a fabulous group.

At the end of the night, once the voting was complete, we won the competition!

The true prize of the weekend, however, was something everyone got to take with them: the knowledge and experience gained from working with the talented coaches and event organizers. The connections to new colleagues and friends that will last well beyond the weekend and the confidence that comes from seeing just how much you can accomplish when you surround yourself with a talented and passionate team that shares your vision.


I look forward to staying in touch with all my fellow SWLou veterans and seeing the amazing things they accomplish. Several of the teams are moving forward with their ideas, including us. I wish everyone the best of luck and hope that we can all carry a little of the weekend's spirit with us in all our future endeavors.
Interested in Application Development, Intellectual Property or other cool KiZAN stuff? We would love to hear from you! Leave a comment below or contact us today!
Subscribe to the KiZAN blog!