As the technology demands of today's business environments expand, protecting both virtual and physical assets becomes an increasingly complex matter. As such, multiple disaster recovery solutions are often required to address the entire technology infrastructure.
However, this added complexity adds cost and creates doubt as to whether the DR solutions will actually work as intended when everything "hits the fan."

Microsoft's Operations Management Suite (OMS) eliminates the complexity and offers a comprehensive disaster recovery solution for VMware, Hyper-V, and physical servers to analyze, manage, and protect your business.
In the event of an emergency, here are 5 ways OMS can save your bacon:
Prepare for the worst
In any situation, being prepared not only reduces panic, but also allows you to create disaster recovery contingency plans for different scenarios.

Azure's endless compute resources and OMS Site Recovery's nondisruptive disaster recovery drill technology allow you to test failover and prepare for downtime within minutes, and to confirm your workload's performance in Azure without impacting on-going replication or production workload.


Eliminate single points of failure
Servers go down; that's why we have backups. OMS's simplified approach to data center management allows you to minimize the effort needed to provide true redundancy to critical systems. OMS seamlessly integrates on premise, secondary, and cloud fail safes.

Not only does OMS provide backups of critial data though Azure Backup, it also provides for Diaster Recovery using Azure Site Recovery to replicate our workloads off site so that we can spin-up in the cloud in the event that we have a data center failure.

One of the lessons learned by business leaders in New Orleans in the aftermath of Hurricane Katrina was that a mix on-premise, hosted, and cloud solutions provided the best solution to keeping critical applications and data safe and accessible.


Backup Automation
Azure Backup backs up your data and applications to the cloud, reducing the need for backup storage and the need for secondary copies or the taking of tapes off site. When systems crash, it's comforting to know that your scheduled backups actually happened.

We know that the manual backups called for in the SOP checklists happen religiously, right? But what about the automated backups? Are they happening successfully as you assume?

OMS provides insight into your managed resources and can alert you to the success/failure of your automated processes so that you can be confident your backups are valid and usable.
Orchestrated disaster recovery as a service (DRaaS)
In the event of an outage, bring sites and data back online in a logical progression based upon criteria "you" define, not a random progression based upon what the "computer" decides.

This will allow for quick restoration of critical services, even for complex multi-tier workloads, with less bandwidth and machine power being cannibalized by non-critical processes.


Prevent outages before they happen
This may seem oversimplified, but the best way to "recover" from a disaster is to prevent the disaster in the first place. OMS allows you to gain immediate insight into workloads, security threats, and overall system health so that you can proactively keep your systems in tip-top shape.

With OMS, you can collect, correlate and act on data from multiple systems in a single view! You can also map and understand the relationships of your workloads and applications, and be notified instantly about areas of concern with custom alerts.
Interested in learning more about Disastery Recovery and how KiZAN can help? Schedule a FREE Session with one of our experts today!
---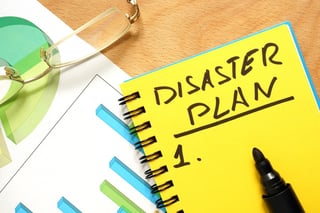 Every business needs a Disaster Recovery Plan
KiZAN can help.

Check out all our Disaster Recovery resources
&
Schedule a Free Disaster Recovery Discovery Session today!
---