Is document security important for your clients and your business? Do you store medical, financial or legal documents within SharePoint/Microsoft Dynamics CRM? The safety of these materials along with sensitive information like salaries and employment contracts are often unknowingly compromised! Do I have your attention now!?!

When a document is uploaded to SharePoint and linked to an account, contact or opportunity within CRM, the link to that document is now visible to everyone within your organization regardless of the permission rights set in CRM. But you thought that CRM and SharePoint were secure?? They are. The problem lies within the standard integration between the two. Essentially SharePoint does not know who is allowed to access what in the way of documents.


Let's say, for example that your assistant Curious Connie has access to several employee files within CRM simply so that she can obtain their contact information. Seems harmless, right? Well, Human Resources associates employment contracts that were uploaded to SharePoint with their perspective employee in CRM. Something that you didn't even consider when you asked IT to give Connie permission to these contacts in CRM. So now Connie knows how much these other employees make, and we all know where this goes from here.


If you store more than Human Resource documents in CRM, your issues could quickly become much bigger than Curious Connie.
---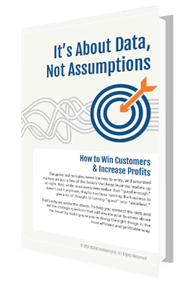 Are you optimizing standardization, documentation, and automation?
Learn more in our free ebook!
It's About Data, Not Assumptions
[How to win customers & increase profits]