Why do I need a mobile app?
Can your company benefit from a mobile application? It's a question that every tech leader should be asking themselves.
What can a mobile app do for your business? Here are a few of the ways a mobile app can help:
Build brand awareness
Improve employee efficiency
Improve customer engagement
Use it as a direct marketing channel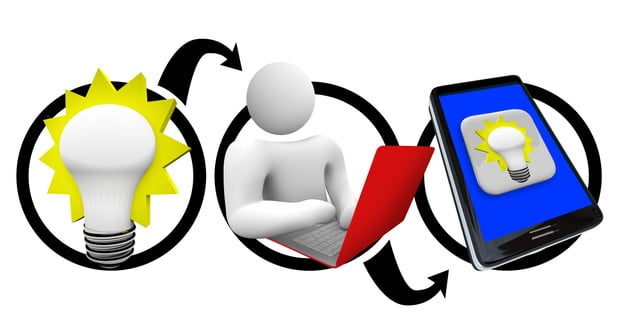 A mobile app can be created with endless capabilities. Many business owners are developing mobile apps for their employees. For example, a former employer of mine provided an app that enabled employees to easily access their work schedules, production data, payroll, and other relevant infortmation that would otherwise be accessed from only one location. Employee based apps have been shown to improve employee engagement and efficiency in the workplace.
Put yourself in the shoes of your customers, employees or vendors and think how you could ultimately provide them additional value through a mobile application.
Companies tend to rely on their IT department to give them guidance on creating a mobile application for the organization. But what they don't realize is that the idea can come from anyone with an entrepreneurial mindset.
It starts in your mind. Imagine what your application would look like, consist of, and the ways it would provide value to your company and it's users. There are many ways of approaching mobile application development, but many are afraid to take the first step for the following reasons:
Too complex for their business
It will cost too much
It will not be worth it
Mobile Use is Only Getting Bigger
Well, there is no need to be scared now. Here are a couple of statistics that prove having a mobile application can make an impact:
1. According to the Pew Research Center's 2015 Technology Device Ownership Survey, 92% of US adults own at least one cellphone or smartphone.
We all know mobile use is becoming increasingly popular over time, especially when it comes to the variety of things you can do with smartphones. Some people cannot live without their phones; you know who you are. I could see them bringing their phone on the show "Survivor" in hopes they could throw it and catch an animal! (disclaimer: phones are not Pokeballs).
2. With a two-year span from 2013 to 2015, the 2015 U.S. Mobile Application Report from comScore found a 90% increase in the minute's people use mobile applications in one month. For a better representation, it went from 409,847 minutes in June of 2013 to 778,954 minutes in June of 2015.
That increase proves that people using these applications are likely seeing value.
Now that you are convinced that smartphones are not going away, the key is taking advantage of the opportunity. You might be thinking, "Do I need a mobile application when I have a mobile website?". Well, according to Compuware.com, 85% of people prefer a native application over a mobile website making the answer to that question obvious.
Don't Wait to Take Action!
Don't let competitors change the game by offering a memorable mobile experience that you cannot. Or if your industry has not yet ventured out into the mobile world, lead the way, and I promise others will follow. I'm not saying your application will take over the world like Pokemon Go, but it could offer enough value to attract, attain, and keep customers coming back. VALUE needs to be the emphasis when planning a mobile application and the time to do so is now!
If this has encouraged you to take the next step but you don't know where to start, please watch this video:
"5 Ways to get Started with Mobile Apps"
to find some inspiration from a fellow mobile application developer.
Has this video sparked an idea you like and want to find out if it is feasible?
Schedule a FREE 30 minute session with one of our developers to find out!