The modern workplace is built for teams and networks. Real-time collaboration is incredibly important if you want to stay competitive. Complicating things are the surge of the Millennial generation into the workforce. By 2020, they will be the majority, and they communicate in a lightning fast way. If your organization does not provide the tools, they will find a way to get their job done outside of your network.

Microsoft understands this wave and how it will impact your business. Skype for Business can be deployed online, on-premise or in a hybrid manner, to allow the functionality you need to prepare your business for this modern workplace.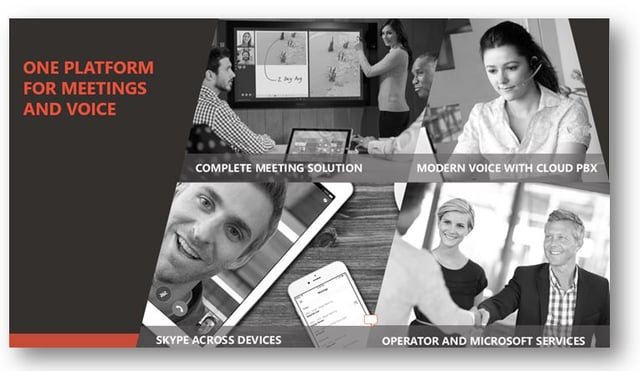 Reason 1: Complete Meeting Solution
Work like you are all in one room, even when you're not. Skype Meetings offers HD video, desktop sharing, coauthoring, presentations, and more!
Use any phone to join Skype Meetings, with dial-in and dial-out PSTN Conferencing.
Reach thousands for very large meetings with Skype Meeting Broadcast.
Reason 2: Modern Voice with Cloud PBX
Make, receive, and transfer business calls in the office, at home, or on the road, using phone, PC, and mobile.
Interoperate with existing assets and eliminate separate PBX systems over time
Increase agility and consolidate management with rapid provisioning, reporting, and diagnostics of voice services in Office 365
Reason 3: Skype Across Devices
Get input without leaving your doc. Thanks to Skype in-app integration, you can IM, screen share, talk, or video chat right in your docs
Connect to your team anywhere with Skype for Business mobile apps across Windows, Android, and iOS
Reason 4: Operator and Microsoft Services
Take advantage of calling services from Telco operators worldwide with on-premises connection to Cloud PBX
Subscribe to PSTN Calling plans from Office 365, use existing phone numbers, or get new ones
Deliver secure, high-quality voice and video traffic across the globe using Azure ExpressRoute for Office 365
---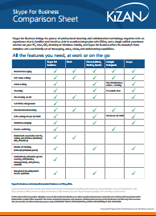 Compare Skype for Business to the competition!
Download our FREE Comparison Sheet!